Product News: Welding Equipment & Supplies, Materials & Material Processing, Non-Industrial Products
Wear-Resistant Skis protect road milling machinery.
Press Release Summary: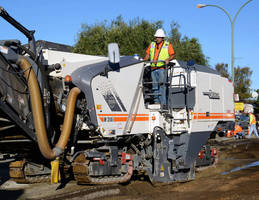 April 4, 2014 - Super C™ or KenCast™ skis deliver wear protection for replacement skis for road milling machines. Super C chromium carbide overlay suits applications requiring optimal abrasion resistance with moderate impact. Welding process produces hexagonal chromium carbides (M7C3), which contribute to wear resistance in sliding abrasive applications. For higher wear protection, KenCast composite material offers wear resistance of tungsten carbide and toughness and weldability of steel.
Original Press Release
Kennametal Announces Advanced Wear Protection for Road Milling Machine Skis
Press release date: March 27, 2014
Options available for improved performanceRoad milling skis can last hundreds of hours with new Kennametal wear-resistant solutions.

Road building is among the world´s most extreme jobs, one that chews up wear components regularly, slowing important projects and raising the costs of doing business. Major road construction contractors are well aware of Kennametal technology and leadership in conicals, blocks, and drums. That same Kennametal leadership and service is now available in advanced wear protection for replacement skis for road milling machines.

Two choices are available: Super C™ or KenCast™ skis. "Super C is our premium chromium carbide overlay for applications requiring extreme abrasion resistance with moderate impact," says Aniruddha (Ani) Marathe, Kennametal product manager. "Super C is highly rated by industry for applications requiring significant abrasion resistance with moderate impact, good formability and weldability."

Kennametal´s proprietary welding process produces a high volume of hexagonal chromium carbides (M7C3), he explains, which provide higher wear resistance in sliding abrasive applications. "Our unique blend of chemistry and processing provides significantly higher wear resistance, leading up to three times wear-life improvement compared to other after-market products, depending on operating conditions."

For even higher levels of wear protection, Kennametal´s KenCast™ is a composite material with the wear resistance of tungsten carbide and the toughness and weldability of steel. KenCast provides up to five to seven times improvement in wear life compared to steel wear solutions.

"In either choice, Kennametal skis have industry-leading wear performance, offering more options depending on conditions and providing the best value for road milling contractors," Marathe adds.

Kennametal Inc. is the leading global manufacturer of tooling and associated engineering services for successful construction work. Customers are assured the most technologically advanced tools, tooling systems, engineering services, and customer support, designed around maximizing productivity and improving performance. More information is available at www.kennametal.com.

Kennametal
Celebrating more than 75 years as an industrial technology leader, Kennametal Inc. delivers productivity to customers seeking peak performance in demanding environments. The company provides innovative wear-resistant products, application engineering and services backed by advanced material science, serving customers in 60 countries across diverse sectors of aerospace, earthworks, energy, industrial production, transportation and infrastructure. With approximately 14,000 employees and nearly $3 billion in sales, the company realizes half of its revenue from outside North America, and 40% globally from innovations introduced in the past five years. Recognized among the "World's Most Ethical Companies" (Ethisphere); "Outstanding Corporate Innovator" (Product Development Management Association); and "America's Safest Companies" (EHS Today) with a focus on 100% safety, Kennametal and its foundation invest in technical education, industrial technologies and material science to deliver the promise of progress and economic prosperity to people everywhere. For more information, visit the company's website at www.kennametal.com.


Kennametal Shared Services GmbH
Wehlauer Strasse 73
D-90766 Fuerth
Carsten GROMOLL
Phone: +49 911 9735 557
Fax: +49 911 9735 551
carsten.gromoll@kennametal.com