Product News: Electronic Components & Devices
Waveform Monitors, Rasterizers support 4K requirements.
Press Release Summary: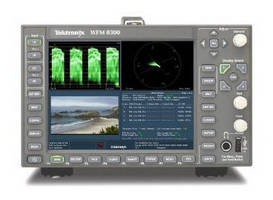 July 31, 2014 - Eliminating need to procure hardware replacements in order to shoot, prepare, and deliver 4K programming, WFM8200 and WFM8300 waveform monitors and WVR8200 and WVR8300 rasterizers can be upgraded via software to support 4K. Products can perform range of 4K measurements, including 4-tile displays of waveform, picture, vector, gamut, and eye diagram for YPbPr formats. Measurement capabilities lets users reduce time required to isolate, diagnose, and remedy system issues and design faults.
Original Press Release
Tektronix Waveform Monitors Meet 4K Needs of Production, Post-Production and Broadcast Markets
Press release date: July 29, 2014
Customers Can Easily Upgrade Their WFM/WVR8200 and WFM/WVR8300 Waveform Monitors and Rasterizers to Support 4K

BEAVERTON, Ore. -- Tektronix, an industry-leading innovator of video quality monitoring solutions, today announced that its WFM8200 and WFM8300 waveform monitors and WVR8200 and WVR8300 rasterizers can now be easily upgraded via software to support 4K, eliminating the need for customers to purchase costly hardware replacements in order to shoot, prepare and deliver 4K programming.

"4K is taking off and all the companies involved in the production and delivery of 4K content - from camera manufacturers to post-production houses to broadcasters - are investing in new 4K-related equipment as cost-consciously as possible.  Recognizing this, we engineered these popular waveform monitors and rasterizers to be easily upgraded to meet customers' 4K requirements and to save them money," said Eben Jenkins, General Manager, Video Product Line, Tektronix.  "Our WVR8300 recently met the needs of Brazil's Globosat, which used it as part of its comprehensive effort to ensure that its ongoing 4K coverage of the World Cup was as pristine and picture-perfect as possible."

The WFM8200 and WFM8300 waveform monitors and WVR8200 and WVR8300 rasterizers can perform a broad range of 4K measurements including four tile displays of waveform, picture, vector, gamut and eye diagram for YPbPr formats.  These comprehensive measurement capabilities enable users to reduce the time to isolate, diagnose and remedy system issues and design faults.

The software upgradeable platform at the heart of each model uses a high-performance architecture designed from the outset to support the throughput requirements of 4K content.  Their outstanding combination of capabilities, features, performance and upgradeability make them ideal for meeting the 4K requirements of equipment manufacturers, post-production houses, broadcasters and other video service providers (VSPs).  Customers can continue to purchase the equipment they need for their existing requirements, secure in the knowledge that when the time comes to roll out 4K, they can easily upgrade. This level of investment protection is a direct result of Tektronix commitment to staying ahead of the technology curve.

Pricing and Availability
The Tektronix 4K software upgrade (option 4K) for the WFM8200 and WFM8300 waveform monitors and the WVR8200 and WVR8300 rasterizers is currently available worldwide.  Upgrading is simple and can be accomplished in the field using an available field upgrade kit.  Pricing starts at $5,000 U.S. MSRP.  More information is available at http://www.tek.com/baseband-video-test-solutions.

Being able to support wide 2K/4K format coverage is important for post-production houses and other companies that must handle a variety of content types. Tektronix will continue to develop additional software upgrades to include 2K formats for its WFM7200 and WVR7200 and additional 2K/4K formats for its WFM8200 and WFM8300 model waveform monitors and WVR8200 and WVR8300 model rasterizers.

Wonder what else Tektronix is up to? Stay up to date on Twitter and Facebook.

About Tektronix
For more than sixty five years, engineers have turned to Tektronix for test, measurement and monitoring solutions to solve design challenges, improve productivity and dramatically reduce time to market. Tektronix is a leading supplier of test equipment for engineers focused on electronic design, manufacturing, and advanced technology development. Headquartered in Beaverton, Oregon, Tektronix serves customers worldwide and offers award-winning service and support. Stay on the leading edge at www.tektronix.com.

Tektronix is a registered trademark of Tektronix, Inc. All other trade names referenced are the service marks, trademarks or registered trademarks of their respective companies.

CONTACT: Amy Higgins, PR Manager, Tektronix, +1-503-627-6497, ahiggins@tektronix.com