Product News: Electronic Components & Devices
Waveform Generators provide up to 50 MHz output.
Press Release Summary: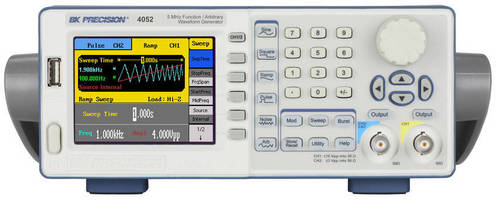 September 12, 2013 -
Comprising 4 dual-channel function/arbitrary waveform generators, 4050 Series produces precise sine, square, triangle, pulse, and arbitrary waveforms. Main output voltage can be varied from 0–10 Vpp into 50 Ω, while secondary output can be varied from 0–3 Vpp into 50 Ω. Providing 48 built-in arbitrary waveforms, 14-bit, 125 MSa/s units can create and load up to 10 custom 16 kpt waveforms using included waveform editing software via USB interface on rear.
Original Press Release
B&K Precision Expands Function/Arbitrary Waveform Generator Offerings
Press release date: August 1, 2013
Provides Up to 50 MHz Output on Two Channels and 14-bit AWG at Low Price Point

YORBA LINDA, CA,  -- B&K Precision today announced the launch of its 4050 Series, a line of four dual channel function/arbitrary waveform generators. These new instruments can generate waveforms up to 50 MHz for use in education and applications requiring stable and precise sine, square, triangle, and pulse waveforms, with modulation and arbitrary waveform capabilities.

All models are dual-channel, providing a main output voltage that can be varied from 0 to 10 Vpp into 50 ohms and a secondary output that can be varied from 0 to 3 Vpp into 50 ohms. Their large 3.5" color LCD display, rotary control knob, and numeric keypad with dedicated waveform keys and output buttons make waveform adjustments quick and effortless.

Equipped with a 14-bit, 125 MSa/s, 16k point arbitrary waveform generator, the 4050 Series provides users 48 built-in arbitrary waveforms and the ability to create and load up to 10 custom 16 kpt waveforms using the included waveform editing software via standard USB interface on the rear. An optional USB-to-GPIB adapter is available for GPIB connectivity.

The 4050 Series offers a wide variety of modulation schemes for modulated signal applications: amplitude and frequency modulation (AM/FM), double sideband amplitude modulation (DSB-AM), amplitude and frequency shift keying (ASK/FSK), phase modulation (PM), and pulse width modulation (PWM).

Other standard features include linear and logarithmic sweep function, built-in counter, Sync output, trigger I/O terminal, and USB host port on the front panel to save and recall instrument settings and waveforms. Additionally, a standard external 10 MHz reference clock input is provided for synchronization of the instrument to another generator, a feature not typically found in generators at this price point.

Available immediately, B&K Precision's 4050 Series products are all backed by a standard 3-year warranty and listed at the following prices:

4052 --- 5 MHz  ---  $499*
4053 --- 10 MHz --- $599*
4054 --- 25 MHz --- $850*
4055 --- 50 MHz --- $1,050*

*B&K Precision is running a 10% off MSRP promotion from August 1, 2013 – November 30, 2013. Visit our website for details.

For additional technical specifications, accessories, photos, and support documents, visit: http://www.bkprecision.com/products/signal-generators/4055-50-mhz-dual-channel-function-arbitrary-waveform-generator.html

About B&K Precision
For more than 60 years, B&K Precision Corporation has been building a reputation for excellence in the design and manufacture of reliable and cost-effective test and measurement instruments. The company's products are used in a wide range of applications including design, research and development, production line testing, industrial maintenance, and electronic field service. B&K Precision test and measurement instruments are standard equipment in a large number of universities and technical schools which train future engineers and technicians. B&K Precision was founded in 1951 and is headquartered in Yorba Linda, California.

Contact:
James Schada
jschada@bkprecision.com
(714) 921-9095