Product News: Safety & Security Equipment, Test & Measuring Instruments
Watertight Audio Alerts suit marine applications.
Press Release Summary: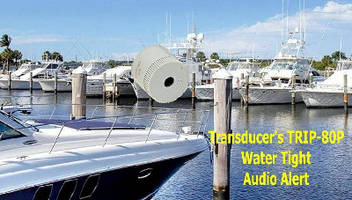 June 19, 2014 - Within operating range of 8–16 Vdc at 25 mA max, TRIP-80P Series offers minimum sound output of 106 dB at 2,700 Hz at 10 CM ±500 Hz. Special process on piezo's output side and base provides watertight sealing for internal circuitry. Pin-mounted units are suitable for marine bilge pumps, engine room controls, and off-road heavy commercial vehicles, as well as recreational and consumer applications which require protection against poor atmospheric conditions.
Original Press Release
Watertight Audio Alert for Marine Applications
Press release date: June 10, 2014
Small Size provides over 100 dB of SPL

The unique design of Transducers USA's TRIP-80P Series of audio alerts where a special process on the piezo's output side and the base provide watertight sealing for the unit's internal circuitry.

Couple this environmental protection with a high sound dB output pf well over 100 dB, the TRIP-80 is an audio alert that is ideal for almost any moisture and harsh application.

With the lowest price high output watertight available today, Transducers TRIP-80P is ideal for usages involving marine bilge pumps, engine room controls, off the road heavy commercial vehicles as well as recreational and consumer applications which require protection against poor atmospheric conditions, this small, pin-mounted, high-output unit is an ideal choice

The TRIP-80P offers a minimum sound output of 106 dB at 2700 Hz at 10CM ±500 Hz within an operating range of 8-16 VDC at 25 mA max.

The pin mounted version of the TRIP-80P is currently very competitively priced at $.59 each available from stock at the company's main Elk Grove Village, IL warehouse. Sample requests, detailed specifications and specific pricing and delivery quotes should be addressed to:
TRANSDUCERS USA
1400 Howard Street, Elk Grove Village, IL 6007
Tel. 1-888-921-6400
FAX: 847-956-1960
E-mail: info@tusainc.com  
Web: www.tusainc.com

Transducers USA provides a leading role in providing products of superior performance, efficiency, output and cost effectiveness. Most of their products are certified under ISO-9002 with many having ISO-9001 and/or QS-9000, and are manufactured in modern facilities in Taiwan, China and Korea, and include an extensive line of piezo buzzers, ceramic elements, speakers, receivers, microphones and ultra-sonic sensors and emitters marketed to the telecommunications, medical and industrial markets throughout North America.

Company Contact: J. Sieracki @ 847-956-1920