Waste Tanks protect remote environments and work sites.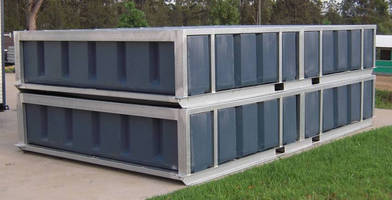 Waste Tanks protect remote environments and work sites.
February 1, 2012 - Each UV-stabilized, all-polyethylene waste tank has capacity of 4,000 L and features flat-bottom design to ensure no excess sewage remains in tank after being pumped out. Tanks are designed to protect environments such as construction sites where no sewer connection is available. Tank unbolts from frame, but otherwise entire structure is welded in fixed position. Stackable tanks are engineered with forklift slots and feature drag lugs so they can be relocated throughout site.

(Archive News Story - Products mentioned in this Archive News Story may or may not be available from the manufacturer.)
Original Press release

Marathon Group
3356 Gorham Ave.
Minneapolis, MN, 55426
USA



Waste Tanks Protect Remote Environments and Work Sites


Marathon Group's waste tanks are ruggedised units made to protect environments on remote sites or construction sites, particularly when no sewer connection is available..

With an all-polyethylene tank (rather than the industry-common stainless steel) and heavy duty galvanised steel frame, these units are specifically designed to go underneath an ablution block and perform the roughest of conditions and locations where no sewer connection is available.

One of the key features of Marathon Group's ruggedised waste tanks is these units are flat on the bottom of the tank to ensure no sewage remains in the tank when pumped clean.- unlike other sheds on the market which have ridges on the bottom which often cause residue to remain.

This ridge-free base has a level outlet to eliminate waste leftovers. The poly tank itself is a high-density UV-stabilised unit that is easily removed from the steel frame when required.

The tank unbolts from the frame, but otherwise the entire structure is welded thoroughly in fixed position for structural integrity and long lifespan.

Good long-term use and countless relocation, Marathon Group's waste tanks are all engineered with forklift slots and are stackable, ensuring that loading and transport is simplified and more cost effective.

Each unit has drag lugs so that they can be dragged throughout sites as relocation on site is often a function of such equipment.

Each waste tank has a capacity of 4,000 litres. Dimensions are 3865mm length, 660mm height and 2400mm depth.

For more information please call Tim Drake at Marathon Group, PO Box 3146, Singleton, NSW 2330.
Phone: 02 6575 2900, email: tim@mgpl.com.au
www.mgpl.com.au

Written and prepared by Omentum Media Australia.
Val Pavlovic: 0413 869 589, mob: 0413 869 589. email: admin@omentum.com.au

---
See related product stories


Start Your

Free


Subscription to


Industry Market Trends

.