Product News: Electronic Components & Devices, Optics & Photonics
Wand Photodiode Sensors include built-in temperature sensing.
Press Release Summary: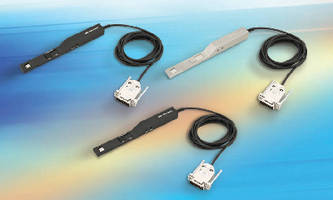 December 19, 2012 - Packaged in metal housing with integrated calibration-data storage and automatic OD3 attenuator On/Off position sensor, Series 918D-ST is available with 10 x 10 mm silicon, UV-enhanced silicon, or germanium photodetector. Models 918D-ST-IR,  918D-ST-SL, and 918D-ST-UV operate from 780–1,800 nm, 400–1,100 nm, and 200–1,100 nm, respectively. Supplied with NIST-traced calibration report, sensors are suitable for laser and other optical power measurements where space is limited.
Original Press Release
Newport Introduces 918D-ST Series Wand Photodiode Sensors
Press release date: December 18, 2012
Irvine, CA – Newport Corporation, an industry leader in optical power measurement, introduces the most advanced 918D-ST series wand photodiode sensors available.  The new design features a thin profile wand detector in a sturdy metal housing with integrated calibration-data storage and an automatic OD3 attenuator On/Off position sensor.  Similar to Newport's family of 918D series detectors, the new 918D-ST series features built-in temperature sensing electronics to compensate for temperature variation.  The 918D-ST-IR wand operates from 780 nm to 1800 nm, the 918D-ST-SL from 400 nm to 1100 nm, and the 918D-ST-UV from 200 nm to 1100 nm.

A large area 10 mm x 10 mm silicon, UV-enhanced silicon, or germanium photodetector combines with the ergonomic case design, making the new wand photodiodes  ideal for applications in laser and other optical power measurements, where access or space is limited.  Newport's rigorous calibration system offers the best value for detectors with the smallest calibration uncertainty.  When used with select advanced power meter models from Newport, the new 918D-ST series detectors allow the user to change position of the attenuator without having to reconfigure the power meter, and it permits more accurate measurements by auto-adjusting the responsivity of the photodiode.

The new wand detectors are available for shipping now with a NIST-traced calibration report that details individual detector responsivity, measured with and without attenuator.  For more information, please visit:  www.newport.com/918D-ST

About Newport Corporation
Newport Corporation is a leading global supplier of advanced-technology products and systems to customers in the scientific research, microelectronics manufacturing, aerospace and defense/security, life and health sciences and precision industrial manufacturing markets.  Newport's innovative solutions leverage its expertise in high-power semiconductor, solid-state and ultrafast lasers, photonics instrumentation, sub-micron positioning systems, vibration isolation, optical subsystems and precision automation to enhance the capabilities and productivity of its customers' manufacturing, engineering and research applications.  Newport is part of the Standard & Poor's SmallCap 600 Index and the Russell 2000 Index.

Company Contacts:
Pete Neely
Director, Marketing Communications
Tel: 800-222-6440 / +1 949-863-3144
E-mail: pete.neely@newport.com

Jay Jeong
Sr. Product Marketing Manager
Tel: +1 949-757-2137
E-mail: jay.jeong@newport.com