Wall Plug-In Power Supply suits Li-Ion battery chargers.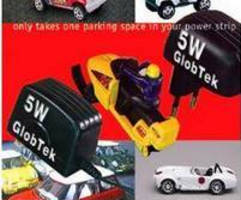 Wall Plug-In Power Supply suits Li-Ion battery chargers.
December 9, 2009 - Single-output GT-(A,R)81051-W2 series accepts 100-250 Vac universal input, provides regulated 3.0-13 V output in 0.1 V increment, and has 5 W max rated output power. Featuring Class II, double-enforced insulation, constant-voltage/constant-current limit models come enclosed in 39.5 x 29.5 x 54 mm or 30.2 x 39.3 x 55.5 mm impact-resistant, non-vented polycarbonate case and are cooled via conduction. Over-current, short-circuit, over-voltage, and thermal protection is built-in.

(Archive News Story - Products mentioned in this Archive News Story may or may not be available from the manufacturer.)
Original Press release

GlobTek, Inc.
186 Veterans Dr.
Northvale, NJ, 07647
USA



'GlobTek' Wall Plug-In, 5 Watt Single-Output, Constant-Current Limited, Series Switching Power Supplies/ Battery Chargers


GlobTek Inc. is introducing our new single-output family, GT-(A,R)81051-W2 series, North America, Europe, U.K., Australia Plug Configurations, of Class II, Double-Enforced Insulation, Output voltage from: 3.0V to 13V in 0.1V increment, 5 watts maximum output power, single-platform design. CV/CC (Constant-Voltage/ Constant-Current Limit) Models are derivative of Constant-Voltage, Current Limit standard models, and main applications Li-Ion battery chargers. Style enclosed power supplies are housed in Impact Resistant non-vented Polycarbonate Upper and Lower Case, Thermal Conduction Cooling, Case Dimensions: Low Profile (R) 39.5Lx29.5Wx54H (mm) and Standard (A) 30.2Lx39.3Wx55.5H. This Family features: Regulated output with very low ripple up to 5W output power, has Built-in Protection features: O.C./S.C., O.V., Thermal, accepts Universal Input:100-250VAC, meets Safety Agency Requirements: UL60950, CSA 22.2#950, and TUV EN60601/EN60950 and complies with EMI/RFI Regulations, EMC Directives/ CE and FCC Class B, ITE/ Battery Charger Applications. All Models carry UL, TUV logo's, with CE-Mark Report generated by independent Certified Laboratory. Modified and Custom Designs are Also Available.

---