Product News: Sensors, Monitors & Transducers
Vision Sensor suits high-speed applications.
Press Release Summary: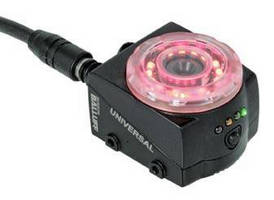 April 29, 2014 - Able to read multiple codes simultaneously, BVS Universal can perform 360° part position detection, defect finding, contour based counting/matching, bar code reading (linear and 2D DM), and OCV. As many as 40 codes per second can be located, read, and verified in any orientation. Available in 6, 8, and 12 mm lens versions with built-in visible red or IR ring light, product features serial port, DIO, Ethernet TCP/IP port, and 640 x 480 resolution.

Original Press Release
New Truly Powerful Universal Vision Sensor from Balluff
Press release date: April 16, 2014
Ideal for 360° part rotation and high speed applications

Florence, KY: Balluff's new BVS Universal Vision Sensor truly does what others can't, including: 360° part position detection, defect finding, contour based counting and matching, bar code reading (linear and 2D DM) and OCV. It also includes a serial port and digital I/O. The Balluff BVS Universal adds a powerful 360° algorithm, providing performance much like that of higher priced vision systems, but in a much simpler, smaller package and at a significantly lower price.

Ideal for a wide range of applications, the Balluff BVS Universal Sensor can be used for assembly and presence control, reading and verification of codes, and advanced part position detection.

The BVS Universal Vision Sensor can read multiple codes at once and is extremely fast - up to 40 codes per second can be located, read and verified in any orientation. In addition, an optical character verification (OCV) function can verify printed sequences of characters and numbers such as batch numbers or minimum shelf life dates.

The Balluff BVS Universal Vision Sensor is now available in a 6mm, 8mm and 12mm lens version with either a built-in visible red or infrared ring light. It is available in a 640x480 sensor resolution with PNP digital outputs, the ability to trigger an external light source and an RS232 serial port, and still provides an Ethernet TCP/IP port for PC based configuration.

For more information on Balluff's universal vision sensor, visit our website.

Watch Balluff's new Vision Sensor in action on our YouTube Channel.

About Balluff:
Balluff Inc., the U.S. subsidiary of Balluff GmbH, Neuhausen, Germany, is a leading manufacturer of a wide range of inductive, photoelectric, vision, capacitive and magnetic sensors as well as linear position transducers, RFID systems, and networking products.  Balluff products for OEM and factory floor solutions are used to control, regulate, automate, assemble, position, and monitor manufacturing, assembly, and packaging sequences for industries including: metalworking, automotive, plastics, material handling, wood processing, aerospace, alternative energy, medical, electrical, and electronics.

Direct reader service inquiries to:  Kelly Panko, Balluff Inc, 8125 Holton Drive, Florence, KY, Phone 1-800-543-8390, or www.balluff.com

In Canada only, contact Norman J. Clarke, President, Balluff Canada, 2840 Argentia Road, Unit # 2, Mississauga, ON  L5N 8G4, Phone 1-800-927-9654 or Tel: 905-816-1494, 905-816-1411, E-mail: balluff.canada@balluff.ca