Video Servers/Encoders employ H.264MP video compression.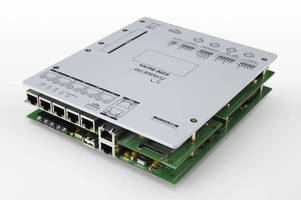 Video Servers/Encoders employ H.264MP video compression.
October 1, 2009 - Featuring built in hard drive for fault tolerant streaming with NAS support, Symmetry EN-9000 Series video servers/encoders offer 4 wall mount or 8 camera 1U rack mount configuration with HDMI output. They include intelligent motion detection and camera tampering capability and transmit high quality real-time images via internal Ethernet switch. Other features include embedded hot swappable hard drives, integrated web server, and video loss, video signal, and sync loss alarms.

(Archive News Story - Products mentioned in this Archive News Story may or may not be available from the manufacturer.)
Original Press release

AMAG Technology
20701 Manhattan Place
Torrance, CA, 90501
USA



AMAG Technology Releases New Symmetry(TM) EN-9000 Series Video Servers and Encoders


The next generation edge network video series provides state-of-the-art video management capabilities for any market

Torrance, CA, September 21, 2009 - AMAG Technology, an industry leading developer of network access control and digital video security management solutions, announces the release of the new family of Symmetry EN-9000 Series video servers and encoders. The new Symmetry EN-9000 series operates on the edge of the network and is fully integrated with Symmetry Video Management software to provide a powerful digital video system. When integrated with any of AMAG's Symmetry access control software, customers will have a vigorous security management solution that will accommodate any size installation.

"Our next generation video server will provide an efficient surveillance technology that will help our customers move into the edge network technology arena," said AMAG Technology, V.P. of Sales and Marketing, Matt Barnette. "Customers can migrate to IP cameras using the Symmetry EN-9000 series that will help protect their security management investment for years to come."

The Symmetry EN-9000 series works with existing pan/tilt/zoom and fixed analog cameras and supports a company's migration to high performance IP cameras. Companies can upgrade to IP cameras at their own pace while maintaining a high level of security with no additional server upgrade costs.

Intelligent video monitoring capabilities enable event triggers via the Symmetry access control system or alarms from other third party systems to be managed within the Symmetry Security Management System. For example, users can schedule Symmetry video to tag a door a minute before and after it has been opened. That video can be stored in long term storage and will be available for later viewing if needed. The frame rate, video resolution and video presets can all be defined for each individual camera to provide the appropriate level of information required when reacting to alarms.

The EN-9000 line of video hardware utilizes state-of-the-art H.264MP video compression technology to minimize network bandwidth restraints and storage requirements while maintaining excellent image quality. High quality real-time images transmit via an Ethernet connection.

Fault Tolerant Streaming(TM) ensures that in the unfortunate event of a network or hardware failure, video continues to record even while the network is down.

Symmetry EN-9000 series video servers and encoder features:

o Built in hard drive for Fault Tolerant Streaming with NAS support
o 4 wall mount or 8 Camera 1U Rack Mount Configuration with HDMI Output
o H.264MP Full Frame Rate Video Encoding
o Embedded Hot Swappable Hard Drives
o Intelligent Motion Detection & Camera Tampering
o Internal Ethernet Switch with Advanced Network Features
o PTZ and preset support
o Video loss, video signal and sync loss alarms
o Integrated web server for configuration
o Advanced network features with integrated Layer 2 switch

For more information about the new Symmetry EN-9000 series and AMAG Technology's Symmetry Product Portfolio, visit www.amag.com or contact Customer Service at 800-889-9138.

About AMAG Technology

AMAG Technology's Symmetry Security Management and Video Solutions can be found in a wide spectrum of markets: government, commercial, education, transportation, healthcare, utilities and banking. Based out of Torrance, California with sales and support located throughout the US, AMAG sells its Symmetry Product Portfolio of access control and network video systems through its Symmetry Authorized Resellers throughout North America. AMAG Technology is part of Group 4 Technology, a leading manufacturer of scalable, integrated security management systems headquartered in Tewkesbury, Gloucestershire, England. AMAG Technology has been at the leading edge of access control technology for over 30 years.

Kim Rahfaldt
Public Relations Manager,
AMAG Technology
Kim.Rahfaldt@amag.com,
920-262-9822

---


Start Your

Free


Subscription to


Industry Market Trends

.