Video Collaboration Robot enables remote management.
Press Release Summary: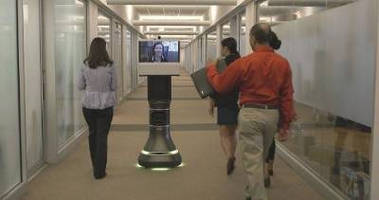 March 21, 2014 - With self-driven Ava 500, people can use video to see and be seen while collaborating in environments that would otherwise be difficult or impossible from afar, including hallways and manufacturing floors. Remote user schedules and controls Ava 500 using iPad®, selecting destination by tapping location on map or by choosing location or employee name. At time of meeting, robot autonomously navigates its way to desired location and initiates call using Cisco TelePresence EX60.
Original Press Release
iRobot Announces Availability of Ava® 500
Press release date: March 17, 2014
Autonomous enterprise-grade video collaboration robot unlocks new applications for telepresence

BEDFORD, Mass., -- iRobot Corp. (NASDAQ: IRBT), a leader in delivering robotic technology-based solutions, today announced that the company's Ava 500 video collaboration robot is ready for delivery in the U.S., Canada and select European markets through select certified Cisco resellers.

iRobot Ava 500 offers a whole new level of telepresence to the enterprise. The remote user gets the "better than being there" benefits of telepresence plus a physical presence through complete freedom of movement. The easy-to-use, self-driven robot allows people to use video to see and be seen while collaborating in environments that would otherwise be difficult or impossible from afar, including hallways and manufacturing floors. With the benefits of telepresence, Ava 500 helps globally dispersed teams work more closely together without the need for costly and time-consuming travel, enabling increased collaboration between executives, managers and employees. With Ava 500, more work gets done, more collaboration takes place and more relationships can be built. A complete hardware and software solution, Ava 500 brings together iRobot's autonomous mobile robotics platform with Cisco's telepresence solutions. It provides enterprise-class security, reliability and scalability.

"Since announcing a joint marketing agreement and alliance with Cisco to bring Ava 500 to market in June, iRobot has completed a beta program and field trials at various sites, including Fortune 500 companies," said Youssef Saleh, senior vice president and general manager of iRobot's Remote Presence business unit. "We have also made great strides by establishing a sales channel that is ready to provide training and installation services. iRobot is committed to continuing its work with Cisco and its channel partners to bring Ava 500 to customers worldwide."

"We are pleased to see iRobot achieve this important milestone," said Rowan Trollope, senior vice president and general manager of Cisco's Collaboration Technology Group. "For truly amazing things to happen, video needs to be available everywhere--on every pane of glass, in every meeting space, and in all the spaces in between. The combination of Cisco TelePresence, Cisco wireless networking and iRobot autonomous mobility will help customers collaborate in new ways. This solution demonstrates a level of innovation that we believe is going to be critical to the next wave of growth in the collaboration industry."

Among those who participated in the Ava 500 beta program is Bayer.

"As a large company with facilities across the globe, technologies like Ava 500 offer several advantages to our business in terms of cost savings and productivity," said Dr. Michael Graefenstedt, vice president BU Polyurethanes and Head of Commercial Business Development EMEA/LA at Bayer. "From my office in Germany, I was able to use Ava 500 to manage and collaborate with U.S. colleagues in a way that would have necessitated expensive travel otherwise. Having experienced a physical presence in the meeting and the advantage of "walking around" with colleagues at their offices, I believe this technology holds great promise for how business will be conducted on a global scale moving forward."

Applications:

iRobot Ava 500 is ideal when freedom of movement and physical presence are needed to achieve an even more personal degree of remote collaboration. It holds potential for a wide range of applications including:

--  Remote management: Managers can have a physical presence and be able to collaborate, manage and work with their team from a remote location, creating a more dynamic, conversational workplace.
--  Collaborative work environments: With Ava 500, someone at home can do the job as if he or she were sitting among the team, moving from cube to cube with full participation.
--  Manufacturing: Allows a remote user to freely walk to different parts of the manufacturing floor as if he or she was physically present, putting eyes on the problems, delivering immediate insight and providing an immediate return.
--  Supply chain / logistics: Brings remote managers and clients right to the heart of their operations. Clients can experience multiple locations without making a special trip, and managers can talk to their employees in their workspaces.
--  Data center: Allows a remote technician to move around the premises as part of standard inspections, and in the event of a problem, provide access to a manager or client without the need for an on-site visit.
--  Laboratories and clean rooms: Gives access to a laboratory or a pharmaceutical clean room without compromising the environment. Remote visitors and experts can observe the work being done, speak with employees and make immediate decisions.
--  Call centers: Delivers a personal connection between managers or trainers and call center employees, bringing their physical presence into the call centers more frequently and less expensively than through travel.
--  Executive briefing center / customer experience centers: With busy schedules, Ava 500 can provide broader access to senior-level executives wherever they are in the world, with hands-on briefings, strategy reviews, product demonstrations and opportunities for relationship building.
--  Corporate training: Allows access to remote experts to lead training, and for other remote participants to be more actively involved, moving around from team to team.

Features:
Ava 500 delivers high-definition, industry-standard video and unprecedented ease of use. The remote user schedules and controls Ava 500 using an iPad®, selecting the destination by tapping a location on a map or by choosing a location or employee name. At the time of the meeting, the robot autonomously navigates its way to the desired location and initiates the call using a Cisco TelePresence EX60. Because Ava 500 is autonomous and maps its own environment, there is no need to drive the robot or to understand the location's layout. Ava 500 intelligently and safely self-navigates busy, real-world enterprise environments without bumping into people or objects. When desired, manual operations to rotate the robot, move the telepresence system up-and-down, and tilt the camera are also provided for more refined control of the robot. This allows the user to move about the room, participate in side discussions, and to be at either a standing or sitting height. At the end of the meeting, the Ava 500 simply disconnects and automatically returns to its charging station.

Availability:
Ava 500 is available through select certified Cisco resellers. iRobot will be demonstrating the robot at the Enterprise Connect Conference in Orlando from March 17-19 in Cisco's booth (booth #904) and in Yorktel's booth (booth #1719). Yorktel is a certified Ava 500 reseller.

Supporting Resources:
--  iRobot Ava 500 website
--  Cisco TelePresence EX60 data sheet

About iRobot Corp.
iRobot designs and builds robots that make a difference. The company's home robots help people find smarter ways to clean, its defense & security robots protect those in harm's way, and its remote presence robots enable virtual presence from anywhere in the world. iRobot's robots feature proprietary technology incorporating advanced concepts in navigation, mobility, manipulation and artificial intelligence. For more information about iRobot, please visit www.irobot.com.

iPad is a registered trademark of Apple Inc. iRobot is not affiliated with Apple Inc.

CONTACT: Media Relations - Charlie Vaida, iRobot Corp., (781) 430-3182, cvaida@irobot.com

Web Site: http://www.irobot.com