Video Camera suits wide-area surveillance spaces.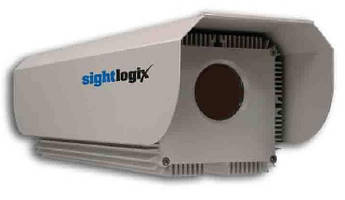 Video Camera suits wide-area surveillance spaces.
March 29, 2010 - Utilizing advanced video processing technologies, WideView SightSensor delivers intelligent close-area surveillance, optimizing security for both critical infrastructure and general commercial outdoor surveillance applications. Five DSPs integrated to optics mitigate ill effects of extreme real-world interference, such as high wind, precipitation, shadows, and vibration. Operating over standard IT networks, camera enables registration of fields-of-view to actual GPS coordinates.

(Archive News Story - Products mentioned in this Archive News Story may or may not be available from the manufacturer.)
Original Press release

SightLogix, Inc.
745 Alexander Road, Suite 5-6
Princeton, NJ, 08540
USA



SightLogix® Introduces Intelligent Outdoor Video Solutions for A Broader Range Of Applications


New WideView SightSensor Improves ROI For Any Size Venue

Las Vegas, NV - SightLogix®, Inc., the supplier of intelligent video surveillance systems for outdoor security applications, is displaying its latest line of
innovative outdoor security solutions here at ISC West 2010. Featured is the company's
newest addition - the WideView SightSensor automated camera - that applies SightLogix' advanced video processing technologies for wide-area surveillance spaces such as electrical substations, parking areas, maintenance yards, and water treatment facilities. The new WideView delivers intelligent close-area surveillance to enhance
security for both critical infrastructure and general commercial outdoor surveillance
applications with a high degree of detection accuracy and lower overall project costs
versus conventional camera systems.

"We've been approached by many users who have expressed an interest in applying
our systems to protect facilities and open areas that require the accurate detection and image processing features we offer," said John Romanowich, President and CEO,
SightLogix. "Listening to our customers' needs, we developed the new WideView
SightSensor camera to provide a high-performance, cost-efficient solution for wide area
outdoor security applications."

SightLogix' innovative camera solutions typically deliver three times more coverage
while reducing installation and operating costs by as much as 50% versus conventional
surveillance cameras. With the addition of the new WideView SightSensor, the same
performance and cost-efficiencies that apply for long-range surveillance applications are now available for wide-area security needs.

"SightLogix long-range and wide-area intelligent video systems have challenged the
conventional wisdom of the outdoor security industry by achieving the highest levels of
detection accuracy at the lowest overall project cost," Romanowich continued. "We are
now extending our systems to a broader range of outdoor applications, starting with the
recently released WideView SightSensor, which is often used for small facilities that
need coverage over a wide area."

The SightLogix solution includes long range Visible and Thermal SightSensor(TM) security
cameras, wide-area WideView SightSensor security cameras, SightTracker(TM) automated PTZ/Dome camera controllers for target identification, and SightMonitor(TM) coordination and GPS target location topology map display software.

For more information on SightLogix perimeter security and outdoor surveillance solutions, call (609) 951-0008, email info@sightlogix.com or visit www.sightlogix.com.

About SightLogix®, Inc.

SightLogix automated outdoor surveillance systems protect critical infrastructure and
key assets of the transportation, energy, utility, chemical, datacenters, public safety, school and religious campuses, and defense industries. The company's openarchitecture, Intelligent Video Surveillance system provides full situational awareness to increase both the effectiveness and efficiency of security manpower. For more information, visit www.sightlogix.com.

---