Product News: Safety & Security Equipment, Material Handling & Storage, Green & Clean
Vented Cabinets safely store noxious and odorous chemicals.
Press Release Summary: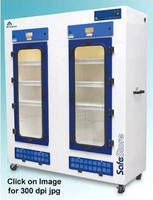 April 23, 2013 - Offered in 25, 1,000, and 2,000 L capacities, Safestore™ cabinets minimize health and environmental risks in handling chemical vapors and residues, VOCs, and general laboratory functions. Multiplex™ filtration system protects safety of personnel during use, maintenance, and decontamination, and carbon filtration technology offers safe alternative to ducted cabinets. Isolating and trapping biological and chemical vapors prevent operator exposure and cross contamination.
Original Press Release
Safe Storage of Noxious & Odorous Chemicals
Press release date: April 10, 2013
The NEW Safestore™ Vented Chemical Storage Cabinets from Air Science are ideal for storage of noxious or odorous chemicals.

These cabinets minimize health and environmental risks in handling chemical vapors and residues, VOCs and general laboratory functions.

The Air Science Multiplex™ filtration system protects the safety of personnel during use, maintenance and decontamination.
Advanced carbon filtration technology offers a safe, high performance alternative to ducted cabinets for a broad range of applications.

Safestore cabinets isolate and trap biological and chemical vapors to prevent operator exposure, to prevent cross contamination, and to eliminate ecological impact through chemical or particulate release into the environment.

The Safestore cabinets are available in three capacities, 25 liters, 1,000 liters and 2,000 liters.

For additional information on Safestore Chemical Storage Cabinets, call, visit the website, or email Air Science USA.

Air Science USA
PO Box 62296
Fort Myers, Florida 33906 USA
Toll Free: 800-306-0656
Phone: 239-489-0024
Fax: 800-306-0677
E-mail: info@airscience.com
Web: www.airscience.com

Client Contact:
Paul Chambre
Paul@airscience.com