Product News: Mechanical Power Transmission
Variable Speed Motors enhance integrated drive system operation.
Press Release Summary: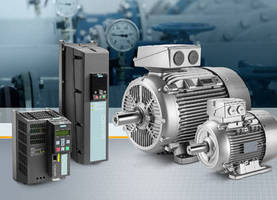 February 26, 2014 - Based on 1LE1 motor platform, VSD10 series comprises motors for frequency converter operation that are available with aluminum housings (Simotics GP) and cast-iron housings (Simotics SD). As central component of integrated drive systems, motors cover 2.2–200 kW output range and are optimized for operation with Sinamics G120 frequency converters. To help achieve maximum possible system utilization, motors also feature temperature sensors and insulated bearings.
Original Press Release
Siemens Presents Simotics Motors for Operation with Sinamics Frequency Converters
Press release date: February 18, 2014
Optimized for Sinamics frequency converters
High efficiency and availability thanks to an optimized system
Pre-defined parameter settings for efficient frequency converter commissioning

On the basis of the motor platform 1LE1, the Siemens Drive Technologies Division is now introducing motors specially for frequency converter operation. The motors in the VSD10 series are available with both aluminum housings (Simotics GP) and cast-iron housings (Simotics SD) and they cover the output range from 2.2 to 200 kW. As a central component of Integrated Drive Systems, the motors are optimized for operation with Sinamics frequency converters so as to achieve maximum possible system utilization. Thanks to optimum coordination of components, a cost-effective overall system has been developed that is distinguished by reliable operation and high availability.

The freqzuency-optimized Simotics motor generation VSD10 of Siemesn drive Technologies.

On the basis of the motor platform 1LE1, the Siemens Drive Technologies Division is now introducing Simotics VSD10 motors which are optimized for operation with Sinamics G120 frequency converters.

The VSD10 motor line is an integrated drive system with Sinamics drives. The Sinamics G120 series covers the majority of focus applications such as pumps, fans, compressors and conveyor systems. As the motor windings are adapted to the power modules of the frequency converters an optimal utilization of the system will be achieved. The motors also possess special features such as temperature sensors and insulated bearings for large shaft heights. These contribute towards boosting the drive components' useful life and thus their availability. Thanks to speed control, the integrated system demonstrates its advantages in applications in the partial load range. This results in energy-saving operation, especially if the inverter's energy saving functions are also used.

The strengths of the integrated solution are also apparent during commissioning. Thus, the motor code located on the rating plate provides pre-defined parameter settings for Sinamics converters. This reduces complexity and costs of commissioning and avoids input errors. The drive system can be integrated easily into the TIA Portal via Profinet.

Siemens at Hannover Messe 2014: www.siemens.com/hannovermesse
The Siemens Industry Sector (Erlangen, Germany) is the world's leading supplier of innovative and environmentally friendly automation and drive technology, industrial software and technology-based services. The Sector's comprehensive portfolio covers the entire industrial value chain, from product design, engineering and production to services. Siemens enhances its customers' productivity, efficiency, and flexibility in a wide variety of different industries. With a global workforce of more than 100,000 employees, the Industry Sector comprises the Divisions Industry Automation, Drive Technologies and Customer Services as well as the Business Unit Metals Technologies. For more information, visit http://www.siemens.com/industry

Event: Press conference ahead of the Hannover Messe 2014
Website: Industry Sector

Mr. Franz-Ferdinand Friese
Drive Technologies Division
Siemens AG
Gleiwitzerstr. 555
90475  Nuremberg
Germany
Tel: +49 (911) 895-7946
franz.friese@siemens.com