Vane Thermo-Anemometer features large backlit LCD display.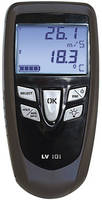 Vane Thermo-Anemometer features large backlit LCD display.
April 16, 2010 - Suited for laboratory, clean room, and air balancing applications, hand held LV110 measures air velocity from 0-8,000 fpm, with 0.01 resolution and adjustable shut off. Unit features 4 in. fixed probe, ice blue 128 x 128 pixel display with max, min, and hold functions, and unit selection in m/sec or fps. Shock proof housing measures 5 x 2.5 x 1.25 in., and device runs on 9 V battery (included).

(Archive News Story - Products mentioned in this Archive News Story may or may not be available from the manufacturer.)
Original Press release

E Instruments International LLC
172 Middletown Blvd., Suite B 201
Langhorne, PA, 19047
USA



LV110 "VANE" Thermo-Anemometer


The BRAND NEW LV110 is a compact, rugged & VERY easy-to-use Vane Thermo-Anemometer ideal for any Laboratories, Clean Rooms, Air balancing, and many more applications. The Large Ice Blue backlit LCD display is easy to read in either light or dark environments.

The LV110 includes:

o Air Velocity: O to 8000 FPM!!
o 0.01 Resolution
o 4" (100 mm) Fixed Probe
o Temperature: (-4 + 176įF)
o Unit Selection: m/s, fpm
o MAX, MIN, HOLD
o Air Flow: Optional Cones
o LARGE, Ice Blue 128 x 128 pixel display
o Economical, hand-held & very easy to use!
o Adjustable Shut Off
o Shock Proof Housing
o Compact dimesions of only 5" x 2.5" x 1.25"
o One 9V Battery Included!



---