Product News: Controls & Controllers
Valve Controller ensures accurate and repeatable dispensing.
Press Release Summary: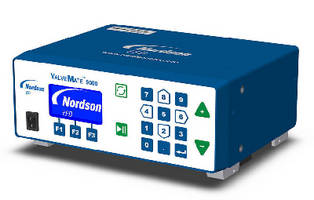 March 14, 2014 - With intricate microprocessor circuitry, ValveMate™ 9000 ensures precise dispensing of adhesives, lubricants, and other fluids. System offers independent dual-valve control programming, each with 24 W temperature controllers for J-type thermocouples. Each channel can drive remote high-speed solenoid valve up to 500 Hz. With Auto-Increment mode, parameters can be adjusted after certain number of shots or specific elapsed time. Users can remotely program set-up parameters via host PC or PLC.
Original Press Release
Nordson EFD's New ValveMate 9000 Precision Valve Controller Offers Next Generation Dispense Valve Functionality
Press release date: March 5, 2014
Increases Dispensing Speed, Throughput, Precision, and Accuracy

East Providence, RI USA — Nordson EFD, a Nordson company (NASDAQ: NDSN), the world's leading precision fluid dispensing systems manufacturer, introduces the new ValveMate™ 9000, state-of-the-art precision valve controller. The intricate microprocessor circuitry ensures the dispensing of precise, accurate, and repeatable amounts of the adhesives, lubricants, and other assembly fluids used in many of today's advanced products, such as medical devices, automotive components, and portable electronics. The ValveMate 9000 incorporates advanced features such as Auto-Increment mode that adjusts dispensing parameters after a certain number of shots or a specific elapsed time.

The ValveMate 9000 offers independent dual-valve control programming, each with 24 watt temperature controllers for J-type thermocouples. Each channel can drive a remote high-speed solenoid valve up to 500Hz. At such fast dispense speeds, the high voltage can potentially damage the dispense system, so the ValveMate 9000 incorporates a clever solution with a unique spike-and-hold functionality. When properly set, the spike-and-hold function allows the controller to spike the voltage for a user-specified spike time and then throttle the voltage down to a user-specified hold voltage after the spike time expires.

In addition, two electronic pressure regulators (EPRs) provide stability in the fluid reservoir by maintaining consistent dispensing with full-to-empty pressure control. This allows the system to compensate for periodically changing conditions, such as fluid viscosity changes, and can be used to alter the dispensing patterns and create deposits of different sizes.

Unlike existing controllers, the ValveMate 9000 offers the ability to remotely program the set-up parameters of the dispense station from the host PC or programmable logic controller (PLC). This feature enables adjustments to be made quickly and easily on-the-fly, without stopping the production line.

"Valve controllers offer an extremely accurate and cost-effective way to regulate the dispensing cycle and keep assembly lines running at maximum efficiency, without the need for time-consuming programming or mechanical adjustments that require the production line to be shut down," said Claude Bergeron, EFD global product line manager. "The benefits of controlled fluid dispensing include higher yields, greater process control, better quality, less rework, fewer rejects, and lower production costs."

For more information visit Nordson EFD on the web at www.nordsonefd.com, www.facebook.com/NordsonEFD, or www.linkedin.com/company/nordson-efd, email at info@nordsonefd.com,  or call +1 401.431.7000 or 800.556.3484.
About Nordson EFD

Nordson EFD designs and manufactures precision fluid dispensing systems for benchtop assembly processes and automated assembly lines. By enabling manufacturers to apply the same amount of adhesive, lubricant or other assembly fluid to every part, every time, EFD dispensing systems are helping companies in a wide variety of industries increase throughput, improve quality, and lower their production costs. Other fluid management capabilities include high-quality syringe barrels and cartridges for packaging one- and two-component materials, along with a wide variety of fittings, couplers and connectors for controlling fluid flow in medical, biopharmaceutical and industrial environments.The company is also a leading formulator of specialty solder pastes for dispensing and printing applications in the electronics industry. 

About Nordson Corporation
Nordson engineers, manufactures and markets differentiated products and systems used for dispensing and processing adhesives, coatings, polymers, sealants and biomaterials; and for managing fluids, testing and inspecting for quality, treating surfaces and curing. These products are supported with extensive application expertise and direct global sales and service. We serve a wide variety of consumer non-durable, consumer durable and technology end markets including packaging, nonwovens, electronics, medical, appliances, energy, transportation, building and construction, and general product assembly and finishing. Founded in 1954 and headquartered in Westlake, Ohio, the company has operations and support offices in more than 30 countries. Visit Nordson on the web at www.nordson.com, www.twitter.com/Nordson_Corp or www.facebook.com/nordson.

Nordson EFD, LLC
Steve Neves
Marketing Specialist
+1 401-431-7032
Steven.Neves@nordsonefd.com

USA & Canada: 800-556-3484;
+1-401-431-7000
info@nordsonefd.com