Validation/Test Platform supports Intel® Quark SoCs.
Press Release Summary: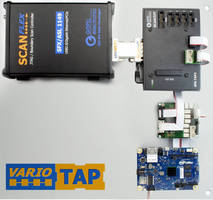 March 14, 2014 - SYSTEM CASCON™ supports Intel® Quark SoCs based on utilization of native debug ports as control interface for platform debugging, electric validation, and production tests. This lets Intel Quark-centric boards with limited physical access and high speed signals be tested structurally and functionally. Integrated SDE offers tool suite, GUI, and graphical project development for synergistic utilization of all ESA technologies, enabling use without nail or probe access (non-invasive).
Original Press Release
GÖPEL Electronic Extends Software Platform for Embedded Test and Validation by Adding Intel® Quark SoC Family
Press release date: February 25, 2014
Jena/Nuremberg – at Embedded World 2014 and hence close to the introduction of the new Intel® Quark processors, GÖPEL electronic announces the support of this System on Chip (SoC) solution with the SYSTEM CASCON™ platform for validation and test of complex boards with embedded processors.

The support of new the Intel® Quark SoC family is based on the utilization of native debug ports as control interface for platform debugging, electric validation and production tests. By this, Intel® Quark centric boards with limited physical access and high speed signals can be tested structurally and functionally with excellent diagnostic results/intensity. The seamless implementation of these features in SYSTEM CASCON™ can be done via processor-specific VarioTAP®-models. For more information please see: goepel.com/jtag-boundary-scan/silicon-partner/intel-corporation.html

SYSTEM CASCON™ is an integrated software development environment with a comprehensive tool suite, uniform GUI, and graphical project development for the synergistic utilization of all ESA technologies, enabling test, programming, and debug operations without nail or probe access (non-invasive).  In addition to JTAG/Boundary Scan/ IEEE 1149.x, key elements of the ESA philosophy are, in particular, Processor Emulation Test, Chip Embedded Instrumentation, Core Assisted Programming, and FPGA Assisted Test.

"Through this now available system solution, customers are supported in their Intel Quark SoC design projects under development in a very early validation stage", says Thomas Wenzel, Managing Director of GOEPEL electronic's JTAG/Boundary Scan Division. "As the same tools can be reused in the production test of later occurring NPI (New Product Introduction), the user benefits from very high synergy effects. Simultaneously, the support of Intel® Quark processors is an important step on our way to offer high performance validation and test tools for all Intel® architectures from one hand."

About Intel® Quark processors
The new Intel® Quark technology is based on x86 architecture and addresses especially Low Power/Small Size applications for areas ranging from  Internet of Things (IoT) to Wearable Devices. The first product is Intel® Quark SoC X1000, which combines a Pentium® ISA compatible single core with multiple I/O and high speed interfaces such as USB2.0, PCI Express and Ethernet in one single chip. This high integration level reduces the number of external components required to a minimum. The X1000 is packaged in a 15x15mm FCBGA with 393 pins. As BGA packages have no physical access to connector pins, Embedded System Access technology is essential to ensure necessary design and test quality.
More details can be found here: intel.com

GOEPEL electronic has joined the Intel® Intelligent Systems Alliance as General Member. Intel® Intelligent Systems Alliance is a global ecosystem of 200+ member companies that provide the performance, connectivity, manageability, and security developers need to create smart, connected systems. Close collaboration with Intel enables Alliance members to innovate with the latest technologies, helping developers deliver first-in-market solutions.
intel.com/go/intelligentsystems-Alliance.

Demonstration during Embedded World show
The support of Intel® Quark technology will be demonstrated with an Intel® Galileo developer board with Intel® Quark X1000 during the Embedded World show in GÖPEL electronic's booth 637 in hall 4. In this application, the also newly developed  TIC122 (TAP Interface Card) for Intel® processors will be used.

Intel® and Pentium® are registered trademarks of Intel Corporation in the United States and other countries.

About GOEPEL electronic:
GOEPEL electronic is a worldwide leading vendor of innovative electronic and optical test and inspection systems as well as intelligent Automotive Test Solutions, being the market leader for professional JTAG/Boundary Scan solutions for Embedded System Access (ESA). A network of branch offices, distributors and service partners ensures the global availability of the products as well as the support of the more than 8,000 system installations. Founded in 1991 and headquartered in Jena/Germany, GOEPEL electronic employs currently more than 200 employees and generated a revenue of 27 Million Euro in 2012 (ca. $37 Mio). GOEPEL electronic has continuously been ISO9001 certified since 1996 and has been honoured with TOP-JOB and TOP-100 awards for being one of the best medium-sized companies in Germany. GOEPEL electronic's products won several awards in recent years and are used by the leading companies in telecommunication, automotive, space and avionics, industrial controls, medical technology, and other industries. Further information about the company and its products can be found on the internet at www.goepel.com.

Press Contact:
GÖPEL electronic GmbH  
Frank Amm   
Göschwitzer Straße 58/60  
07745 Jena
Tel.: 03641-6896-741
Fax: 03641-6896-944
E-Mail: presse@goepel.com
Internet: www.goepel.com