Product News: Computer Hardware & Peripherals
VPX SBC suits aerospace and defense applications.
Press Release Summary: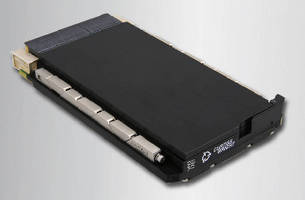 May 21, 2014 - Based on dual 1 GHz ARM® processors, 3U Model VPX3-1701 is rated at less than 15 W max power dissipation. Integral high-speed backplane and XMC connectivity enable multi-Gbps data flows from board-to-board through backplane interface and from backplane to onboard XMC site to support acquisition, processing, and distribution of sensor data. COTS single board computer is suited for demanding C4ISR applications such as video, radar, and sonar data processing.
Original Press Release
Curtiss-Wright Launches New Era of ARM Processor-Based Computing for Defense & Aerospace
Press release date: May 13, 2014
New Family of Rugged VPX Single Board Computers Brings Low-Cost, Low-Power ARM Processing to COTS Market

AUVSI (Booth #653), ORLANDO, Fla. — Curtiss-Wright Corporation (NYSE: CW) today announced that its Defense Solutions division has introduced the first member of its new family of rugged ARM®-based COTS processing modules, the VPX3-1701, a 3U VPX single board computer (SBC) based on a CPU that features dual 1 GHz ARM processors. This cost-effective, low-power small form factor SBC is rated at less than 15W maximum power dissipation. Curtiss-Wright's ARM-based SBCs are the industry's first VPX architecture processing modules to harness the affordability and low power advantages of the ARM architecture. They provide unmatched performance-per-Watt without compromising full-featured connectivity and I/O options. The VPX3-1701 delivers the benefits of ARM technology to system designers today while providing a path to technology insertion with pin compatible, higher performance Curtiss-Wright ARM SBCs to follow.

The VPX3-1701's integral high-speed backplane and XMC connectivity enable multi-GB/s data flows from board-to-board through the backplane interface and from the backplane to its on-board XMC site to support the acquisition, processing, and distribution of sensor data for demanding C4ISR applications such as video, radar, and sonar data processing.

"Curtiss-Wright is very excited to take a leading role in launching a new era of rugged COTS computing by bringing the many benefits of ARM-based processing to the defense and aerospace market," said Lynn Bamford, Senior Vice President and General Manager, Defense Solutions division. "Our new family of ARM-based VPX single board computers will deliver an unprecedented combination of performance-per-Watt to deployed systems."

About the VPX3-1701
The new small form factor VPX3-1701 provides similar I/O interfaces and pin-compatibility with Curtiss-Wright's other popular 3U VPX SBCs, including the Power® Architecture based VPX3-131 and VPX3-133 and the Intel® based VPX3-1257.

The compact, lightweight VPX-1701 is ideal for technology refresh applications. For example, for customers looking to upgrade to VPX from their legacy CompactPCI (cPCI) based system architectures the VPX3-1701 delivers contemporary compute bandwidth and I/O performance for similar cost and power

Curtiss-Wright End-to-End System Solutions
The VPX3-1701 VPX module complements a wide range of Curtiss-Wright COTS solutions for the defense industry, including our wide range of Intel® and Power® Architecture SBCs, graphics controllers, network switches and our FPGA and DSP engines.  With modules available in VME, VPX, and mezzanine PMC/XMC form factors, as well as our complete family of fully integrated subsystems, these solutions are designed for immediate deployment in the most rugged environments.

Additional Information
Please contact the factory for additional information and availability. Click here for more information on the VPX3-1701.

Sales inquiries: Please forward all Sales and reader service inquiries to Kavita Williams, Curtiss-Wright Defense Solutions, Tel: (661) 705-1142; Fax: (661) 705-1206; email: defensesales@curtisswright.com.

For more information about Curtiss-Wright's Defense Solutions division, please visit www.cwcdefense.com.

About Curtiss-Wright Corporation
Curtiss-Wright Corporation (NYSE:CW) is a global innovative company that delivers highly engineered, critical function products and services to the commercial, industrial, defense and energy markets.  Building on the heritage of Glenn Curtiss and the Wright brothers, Curtiss-Wright has a long tradition of providing reliable solutions through trusted customer relationships. The company employs approximately 10,000 people worldwide.  For more information, visit www.curtisswright.com.

John Wranovics
Director of Public Relations
Curtiss-Wright Defense Solutions
jwranovics@curtisswright.com
Mobile: (925) 640-6402