Product News: Electronic Components & Devices
Ultrafast Recovery Rectifiers come in low-profile SMF package.
Press Release Summary: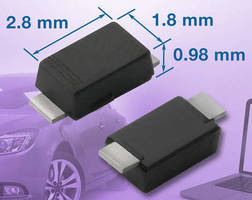 August 20, 2014 - AEC-Q101-qualified, 1 A FRED Pt® rectifiers reduce switching losses and power dissipation in automotive and telecom applications. Planar structure and platinum doped lifetime control promote performance and reliability, while SMF (DO-219AB) eSMP® series package, with <1 mm profiles, increases power density. Reverse voltages are 100 V for VS-1EFH01WHM3 and VS-1EFH01W-M3 and 200 V for VS-1EFH02W-M3 and VS-1EFH02WHM3. Reverse recovery time is 25 ns, and forward voltage drop is 0.93 V.
Original Press Release
Vishay Intertechnology's New 1 A FRED Pt® Ultrafast Recovery Rectifiers Feature Low-Profile SMF Package
Press release date: August 14, 2014
AEC-Q101-Qualified Devices Save Space and Increase Power Density in Automotive and Telecom Applications

MALVERN, Pa. — Vishay Intertechnology, Inc. (NYSE: VSH) today introduced four new 1 A FRED Pt® Ultrafast recovery rectifiers in the compact low-profile SMF (DO-219AB) eSMP® series package. Combining extremely fast and soft recovery characteristics with low leakage current and low forward voltage drop, the AEC-Q101-qualified VS-1EFH01WHM3, VS-1EFH01W-M3, VS-1EFH02W-M3, and VS-1EFH02WHM3 reduce switching losses and power dissipation in automotive and telecom applications.

The Vishay Semiconductors FRED Pt rectifiers released today offer reverse voltages of 100 V (VS-1EFH01WHM3 and VS-1EFH01W-M3) and 200 V (VS-1EFH02W-M3 and VS-1EFH02WHM3), reverse recovery times of 25 ns, and forward voltage drop of 0.93 V. With compact footprints and low profiles of < 1 mm, the SMF package saves significant PCB space compared with standard SMA, SMB, and SMC packages while increasing power density to lower overall costs.

The FRED Pt rectifiers are optimized for DC/DC converters in automotive engine control units (ECU), ABS, and LED lighting, in addition to telecom DC/DC bricks. The devices feature a planar structure and platinum doped lifetime control to guarantee high overall performance, ruggedness, and reliability characteristics in these applications. The components offer an operating junction temperature to +175 °C for a more robust design.

The VS-1EFH01WHM3, VS-1EFH01W-M3, VS-1EFH02W-M3, and VS-1EFH02WHM3 provide an MSL moisture level of 1 per J-STD-020 and LF maximum peak of +260 °C, meet the JESD 201 Class 2 whisker test, and are RoHS-compliant and halogen-free. The rectifiers are ideal for automated placement and allow for automated optical inspection (AOI) in automotive systems.

Samples and production quantities of the new FRED Pt rectifiers are available now, with lead times of eight weeks for larger orders. Pricing for U.S. delivery only starts at $0.10.

Vishay Intertechnology, Inc., a Fortune 1000 Company listed on the NYSE (VSH), is one of the world's largest manufacturers of discrete semiconductors (diodes, MOSFETs, and infrared optoelectronics) and passive electronic components (resistors, inductors, and capacitors). These components are used in virtually all types of electronic devices and equipment, in the industrial, computing, automotive, consumer, telecommunications, military, aerospace, power supplies, and medical markets. Vishay's product innovations, successful acquisition strategy, and "one-stop shop" service have made it a global industry leader. Vishay can be found on the Internet at www.vishay.com.

FRED Pt and eSMP are registered trademarks of Vishay Intertechnology.

http://twitter.com/vishayindust
http://www.facebook.com/VishayIntertechnology