Product News: Communication Systems & Equipment, Electronic Components & Devices
Ultra-Low Noise Amplifier features noise figure of 1.3 dB.
Press Release Summary: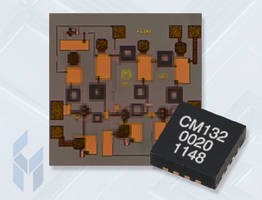 February 27, 2013 - Housed in 3 x 3 mm QFN plastic surface mount package, 5–11 GHz Model CMD132P3 delivers greater than 20 dB of gain across entire bandwidth, and has corresponding output 1 dB compression point of +10 dBm. RoHS-compliant device requires single supply voltage of +3.6 V at 30 mA. In addition to microwave radios and C- and X-band applications, amplifier is suitable for point-to-point radios, point-to-multipoint radios, military/space applications, and test instrumentation.
Original Press Release
Custom MMIC Introduces the CMD132P3 Ultra-Low Noise Amplifier
Press release date: February 13, 2013
Westford, MA –  Custom MMIC, (www.CustomMMIC.com ), a developer of performance-driven monolithic microwave integrated circuits (MMICs), is adding a new 5-11 GHz ultra-low noise amplifier to their growing line of high-quality products. The CMD132P3 presents an ultra-low noise figure of 1.3 dB, delivers greater than 20 dB of gain across the entire bandwidth, and has a corresponding output 1 dB compression point of +10 dBm.

The CMD132P3, which is housed in a RoHS-compliant, 3x3 mm QFN plastic surface mount package, requires a single supply voltage of +3.6 V at 30 mA. Ideal for microwave radios and C- and X-band applications where small size and low power consumption are needed, the CMD132P3 is also suitable for point-to-point radios, point-to-multipoint radios, military and space applications, and test instrumentation. The 50 ohm matched design of the CMD132P3 amplifier does not require any external components aside from the usual bypass capacitors.

To download the full datasheet on the CMD132P3, visit their Amplifier Product Library.

About Custom MMIC
Custom MMIC represents a new way of thinking about MMICs. Driven by customer challenges, the company offers both hands-on design through testing services, and a growing library of system-ready designs. They are experienced in GaAs, GaN, SiC, InP, and InGaP HBT and have established relationships with the leading foundries in these technologies. They specialize in RF through millimeter-wave circuits for satellite communications, radar systems, cellular infrastructure, consumer electronics, VSAT, and point-to-point radio systems. For more information, visit www.CustomMMIC.com  

Company Contact:
David Folding
Custom MMIC
davef@custommmic.com
978-467-4290