Product News: Test & Measuring Instruments, Vision Systems, Electrical Equipment & Systems, Electronic Components & Devices
UV NDT Inspection Lamp has compact, lightweight design.
Press Release Summary: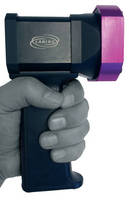 May 7, 2014 - Employing 4 UV LEDs (and white light LED for after inspection), MidBeam is suited for use in Fluorescent Penetrant Inspection (FPI) and Magnetic Particle Inspection (MPI). Handheld unit comes in 0.97 lb mains operated model and 1.23 lb battery operated model. Latter is equipped with current regulator to maintain UV intensity as battery fades. Producing intensity in excess of 4,500 µw/cm² (at 15 in.), lamp is 100% free from UV-B and emits almost no visible light due to visible light filter.
Original Press Release
Labino Announces Launch of an Extremely Light and Compact UV NDT Inspection Lamp
Press release date: April 22, 2014
Stockholm, Sweden — Labino has introduced a new inspection lamp called MidBeam, used primarily in Fluorescent Penetrant Inspection (FPI) and Magnetic Particle Inspection (MPI). This Ultra-Violet (UV) light is a new generation product, based on LED technology, aiming to assist users that perform long and repetitive MPI/FPI tasks. The main benefit of the handheld lamp MidBeam is its compact size and light weight. These features make it extremely easy for the user to operate and carry around even the most difficult inspection areas and structures. This is made possible without compromising the performance of the lamp whose intensity measures in excess of 4 500 µw/cm2 (at 15 inches).

MidBeam is available as Battery or Mains. The mains operated model weighs just 440 grams (0.97 lbs) and the battery operated model weighs just 560 grams (1.23 lbs)! It is easy for the battery version to replace batteries and is equipped with a current regulator in order to maintain the UV intensity constant even when the battery fades. The batteries are conveniently located inside the pistol handle, making the ergonomics of the unit stable, removing concerns of loose belts or battery boxes during inspections. The design of the mains version makes it easy to support the light with a common stand on a bench.

Each MidBeam consists of 4 UV LEDs offering a very broad and even beam. It is also equipped with a white light LED for after inspection. The heat generated from the LEDs is managed via a mechanical cooling system – no fans necessary! MidBeam is 100% free from UV-B and the lamp emits almost no visible light due to a visible light filter. It is compliant with ASTM UV-A intensity and wavelength specifications for FPI and MPI.

About Labino: Labino AB (www.labino.com) was founded in Sweden in 1994 by a group of Swedish engineers. The company manufactures a wide range of UV lights based on MPXL and LED Technology, meters and lubricants with new innovative product launches taking place every year. Labino products are customized to serve the needs of various user groups, industrial and non-industrial. Labino products are available in 55 countries through a large network of distributors. Find your nearest distributor by following this link: http://labino.com/distributors

LABINO AB
Industrivägen 17
171 48 Solna, SWEDEN
Phone: +46 76 677 3406
Fax: +46 8 83 90 23
Marios.Athanasiadis@labino.com