Product News: Chemical Processing & Waste Management
UV Inkjet Filter Assemblies maximize printer up-time.
Press Release Summary: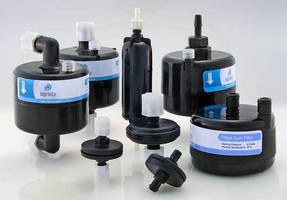 March 14, 2014 - Designed for superwide graphics market, Inprinta® UV inkjet filter assemblies incorporate all filters required along ink path of printer and do not restrict ink flow. Products are manufactured utilizing carbon black as preventative barrier to UV light and feature primary pleated polymeric membranes and secondary BioVyon™ co-sintered solid-state separation polymeric material. Filtration ratings range from sub 1 μm to 100 μm, and inert materials ensure UV ink will not be contaminated.
Original Press Release
Optimised UV Inkjet Filters Maximize Printer Up-Time
Press release date: March 13, 2014
The Inprinta® range of UV inkjet filters are designed specifically for the superwide graphics market and incorporates all the filters required along the ink path of your printer. All UV filters are manufactured utilising carbon black as a preventative barrier to UV light which minimises the risk of premature curing of UV inks. Selecting the correct UV resistant filters will ensure your printer has maximum up-time in between services and ink flow is not restricted.

Inprinta® filter assemblies are provided as solutions for UV inkjet applications from a suite of inert materials (polypropylene, Nylon, polyethylene, stainless steel mesh, and metal fibre) with minimal extractables to ensure UV ink will not be contaminated. These filters are compact to allow fitting in the smallest of printer housing, and come with a varying range of connectors. All filters exhibit superior flow characteristics and ensure consistent reliable printing performance with maximised printhead protection.

Filtration rating starts at sub 1μm for the most refined liquids and increase up to 100μm. Pleated polymeric membranes are engineered as the principal barrier to any foreign bodies or aggregates. An integrated secondary level of protection is added through use of BioVyon™, a proprietary co-sintered solid-state separation material, manufactured from an ultra-pure, highly modified polymeric material with the lowest levels of particulates and extractables. Inprinta Filters are designed to run effectively with all UV inkjet fluids. Filter barriers are constructed from high grade materials before being welded into the UV filter housing to give a fully integrated filter assembly. The final assembly is designed to allow maximum through-flow with minimal pressure drop and zero ink drop across the filter path.

For further information please contact Inprinta on +44-1425-612010 / +1-804-550-1600 or email info@inprinta.com.

Committed to excellent service and support from its offices in the UK and USA, the aim of Inprinta® is to provide quality consumables at an exceptional price. All products are manufactured in the UK and are supplied with the Inprinta® quality guarantee.

Disclaimer:  Inprinta products are not the original, but are compatible parts and they are not produced by, or have been endorsed by the manufacturers specified. Inprinta is not associated with, nor represents of any of the companies stated in Inprinta marketing material and literature. All other companies  trademarks and/or registered marks are the property of their respective companies.

For further information or an illustrative image:
Please contact Dr Bill Bradbury on:   tel. +44-208-546-0869 / email info@primetek-solutions.com