Product News: Optics & Photonics
UV Hybrid Fiber Laser serves micromachining applications.
Press Release Summary: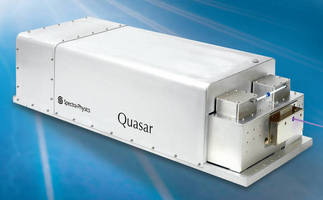 February 12, 2013 - Combining advanced fiber laser, power amplifier, and harmonics technologies, Quasar® delivers 40 W UV power at high repetition rates for high-throughput, precise micromachining. TimeShift™ technology provides programmable pulse profiles for optimal process flexibility and control. Built for 24/7 long-term operation, laser is built for continuous operation in demanding manufacturing environments and is also available with green output of greater than 70 W.
Original Press Release
Spectra-Physics® Debuts Breakthrough High Power UV Hybrid Fiber Laser
Press release date: February 5, 2013
• Quasar® laser sets new industry standard for highest-throughput, precision micromachining

Santa Clara, CA – Spectra-Physics®, a Newport Corporation brand, introduces the new Quasar, a breakthrough hybrid fiber laser that delivers high UV power at high repetition rates with TimeShift™ technology for highest-throughput, precise micromachining. Combining advanced fiber laser, power amplifier and patented harmonics technologies, the new Quasar laser produces an industry-leading >40 W UV power at high repetition rates. The novel TimeShift technology provides programmable pulse profiles to deliver the ultimate in process flexibility and control. Robust for demanding 24/7 long-term operation, Quasar enables high speed, high quality manufacturing in glass cutting, printed circuit board (PCB) drilling and cutting, silicon wafer dicing, and ceramic scribing.

"Quasar is a breakthrough in laser technology, combining the most advanced fiber laser, amplifier, and harmonics technology into a robust system to deliver industry-defining levels of performance and capability," says Dave Allen, general manager and vice president for Spectra-Physics. "This remarkable laser enables dramatic gains in throughput, quality, and precision in the rapidly developing area of microelectronic device manufacturing."

Beyond delivering the highest UV power, Quasar is also available with green output of >70 W. The integrated TimeShift technology optimizes the micromachining process with the capability to vary pulse width from <10 ns="" to="">100 ns at constant repetition rates. Conversely, it provides the capability to maintain constant pulse width with varying repetition rates from <1 to="" 500="" khz. ="" timeshift="" technology="" also="" allows="" for="" pulse="" shaping="" and="" burst-mode="" operation="" for="" accelerating="" throughput="" while="" improving="" quality.="" the="" quasar="" laser="" has="" excellent="" beam="" characteristics (m2="">1><1.3) and="" low="" noise;="" it="" is="" designed,="" built,="" and="" tested="" to="" stringent="" quality="" standards="" for="" reliable="" continuous="" operation="" in="" demanding="" manufacturing="">1.3)>

Spectra-Physics' new Quasar laser will be featured at SPIE Photonics West, Moscone Center, San Francisco, CA, February 5-7, 2013. Please visit Newport's booth #1301 for a demonstration. For more information, please visit: www.newport.com/Quasar .

About Newport Corporation
Newport Corporation is a leading global supplier of advanced-technology products and systems to customers in the scientific research, microelectronics manufacturing, aerospace and defense/security, life and health sciences and precision industrial manufacturing markets. Newport's innovative solutions leverage its expertise in high-power semiconductor, solid-state and ultrafast lasers, photonics instrumentation, sub-micron positioning systems, vibration isolation, optical subsystems and precision automation to enhance the capabilities and productivity of its customers' manufacturing, engineering and research applications.  Newport is part of the Standard & Poor's SmallCap 600 Index and the Russell 2000 Index.

Company Contacts:

Herman Chui
Sr. Director of Product Marketing
Tel: +1 408-980-6996
Email: herman.chui@spectra-physics.com

Elizabeth Peartree
Sr. Marketing Communications Manager
Tel: +1 408-980-4305
Email: elizabeth.peartree@spectra-physics.com
10>