Product News: Test & Measuring Instruments, Software
UMTS Protocol Test Suite includes analysis and emulation tools.
Press Release Summary: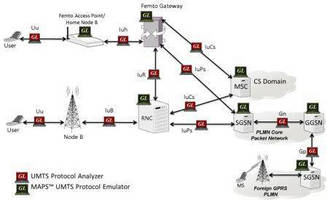 March 11, 2014 - UMTS Test Suite consists of UMTS Analyzer and Emulator, covering all major interfaces in UMTS network. While analyzer provides functionality for capturing, decoding, and performing various test measurements across various interfaces (Iub, Iur, IuCS, and IuPS), emulator can simulate major interfaces across Circuit-Switched (CS) and Packet-Switched (PS) data in UTRAN network. Analyzer also supports ATM as transport layer.
Original Press Release
GL Announces Enhanced UMTS Protocol Test Suite
Press release date: March 3, 2014
Gaithersburg, Maryland, USA – GL Communications Inc announced today its enhanced UMTS Protocol Analysis and Emulation tools.

Speaking to reporters, Mr. Jagdish Vadalia, Senior Manager Product Development of the company said, "GL's UMTS Test Suite consists of both UMTS Analyzer and Emulator covering all the major interfaces in the UMTS network. The Analyzer provides capturing and decoding capabilities across various interfaces. And the emulator is capable of simulating the major interfaces across the Circuit-Switched (CS) as well as Packet-Switched (PS) data in the UTRAN network. The suite provides wide-ranging capabilities that meet the versatile testing of UMTS network."

He added, "GL's UMTS protocol analyzer is capable of capturing, decoding and performing various test measurements across various interfaces i.e. Iub, Iur, IuCS and IuPS interfaces of the UMTS network. In addition, it supports ATM as the transport layer.

The analyzer helps in fault diagnosis and troubleshooting of UMTS network. Multiple instances of UMTS Analyzer can run simultaneously capturing data (real time and off-line) on several T1 E1 lines. It is also capable of capturing & reassembling frames that were transmitted with Inverse Multiplexing. IMA combines up to 8 T1 E1 links to form a single high-speed connection with flexible bandwidth options."

Mr. Vadalia further added, "MAPS™ UMTS IuCS emulator can emulate the RNC (Radio Network Controller) and MSC (Mobile Switching Centre) by generating RANAP and DTAP signaling messages over SCTP.

GL's Message Automation & Protocol Simulation (MAPS™) designed for UMTS IuH interface can simulate Femto Home Node B (HnB), and a Femto Home Node Gateway (HnB-GW) by generating RANAP and DTAP signaling messages over SCTP as Transport layer.

MAPS™ UMTS IuPS interface emulator can emulate RNC (Radio Network Controller), and 3G SGSN (3G Serving GPRS Support Node) by generating RANAP and DTAP signaling messages over SCTP as Transport layer in an IP network as defined by 3GPP standards.

GL's MAPS™ Gn Gp Interface Emulator is an advanced protocol simulator/tester for GTP simulation over Gn, Gp interfaces that can simulate GTP messages and signaling specification as defined in 3GPP TS 29.060 GPRS Tunneling Protocol (GTP) standard. The tester supports testing network elements SGSN and GGSN, error tracking, regression testing, and load testing /call generation. It can run pre-defined test scenarios against GTP interface test objects in a controlled & deterministic manner."

About GL Communications Inc.,
Founded in 1986, GL Communications Inc. is a leading supplier of test, monitoring, and analysis equipment for TDM, Wireless, IP and VoIP networks. Unlike conventional test equipment, GL's test platforms provide visualization, capture, storage, and convenient features like portability, remotability, and scripting

GL Communications has over the years worked with major telecom equipment vendors (EVs) and system integrators to meet the testing requirements arising at various stages of telecommunications product development life cycle.

With its proven expertise of over 25 years, GL has a comprehensive suite of telecom testing solutions to verify and ensure 'quality and reliability' of variety of telecom networks including Wireless, and high-speed fiber optic lines.

GL's test tools range from simple PC-based software test tool to all-encompassing hardware units with futuristic expansion capabilities.  GL's test solutions cover wide array of networks – 4G (LTE), 3G, IP, Ethernet, T1, T3, E1, E3, OC-3/STM-1, OC-12/STM-4, and traditional PSTN networks.

GL's tools are widely used by the telecommunication industry for conformance testing, automated stress/load testing, performance testing, remote accessibility, centralized web-based control and analysis, fault testing and analysis, and customized testing.

For more information about GL's complete line of products,

Contact:
Shelley Sharma
Phone: 301-670-4784
E-mail: info@gl.com