Product News: Fluid & Gas Flow Equipment
Two-Stage Gas Regulators operate reliably at -40°F.
Press Release Summary: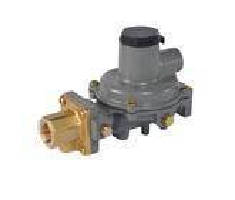 March 21, 2013 - Designed to resist gas impurities, Fisher® Types R232A, R632A, and RS232E accept 250 psig inlet pressure and reduce pressure across two pressure drops, resulting in final pressure of 2 psig. Units combine both first and second stages into one unit for installation on tight fit applications. Regulators not only pass Emerson test specifications for operation at -40°F, but also operate reliably at -40°F after being exposed to environment simulating significant propane contamination.
Original Press Release
Emerson Expands Integral Two-Stage Regulator Family
Press release date: March 13, 2013
Rugged Fisher® LP-gas line includes industry's first compact integral two-psig regulator

McKINNEY, TEXAS – Emerson Process Management announces the expansion of its integral two-stage pressure reducing gas regulator family with the Fisher® Type R232A and Type R632A, and has launched the industry's first compact integral two-psig regulator – the Type R232E. The regulators are designed to perform at -40ºF and resist gas impurities, resulting in longer service life.

The R632A, R232A, and R232E regulators are designed for 250 psig inlet pressure and reduce pressure  across two pressure drops (two stages), resulting in a final pressure of 2 psig. These regulator product families not only pass Emerson test specifications for operation at -40ºF (-40ºC), but they also operate reliably at -40ºF after being exposed to an environment simulating significant propane contamination.

Fisher LP-Gas integral two-stage regulators combine both first and second stages into one compact unit for easy installation on tight fit applications. More information about Emerson Process Management and Fisher regulators may be found at http://www.fisherregulators.com.

About Emerson Process Management
Emerson Process Management (http://www.emersonprocess.com), an Emerson business, is a leader in helping businesses automate their production, processing and distribution in the chemical, oil and gas, refining, pulp and paper, power, water and wastewater treatment, mining and metals, food and beverage, life sciences and other industries. The company combines superior products and technology with industry-specific engineering, consulting, project management and maintenance services. Its brands include PlantWeb™, Syncade™, DeltaV™, Fisher®, Micro Motion®, Rosemount®, Daniel™, Ovation™, and AMS Suite.

About Emerson
Emerson (NYSE: EMR), based in St. Louis, Missouri (USA), is a global leader in bringing technology and engineering together to provide innovative solutions for customers in industrial, commercial, and consumer markets around the world.  The company is comprised of five business segments: Process Management, Industrial Automation, Network Power, Climate Technologies, and Commercial & Residential Solutions.  Sales in fiscal 2012 were $24.4 billion.  For more information, visit http://www.Emerson.com.

Contact:
Tiffany Sonnier, Emerson Process Management, Regulator Technologies
1 (972) 548-3189, Tiffany.Sonnier@Emerson.com