Product News: Test & Measuring Instruments, Computer Hardware & Peripherals
Two-Port 40 GbE Fiber QSFP+ Adapter increases network speed.
Press Release Summary: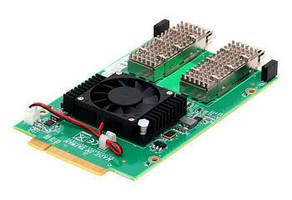 February 13, 2014 - Designed with 40G Ethernet technologies compliant with IEEE 802.3ba standard, NIP-86020 delivers high-bandwidth and Ethernet connectivity for performance-driven server and storage-intensive applications. Adapter leverages Mellanox® Connectx-3 Ethernet controller, supports dual fiber QSFP+ ports, and provides IPv6 offloading, IEEE 1588 precision time protocol circuitry synchronization performance, RDMA over Converged Ethernet (RoCE), and Jumbo Frame functions.
Original Press Release
Portwell's Innovative 40GbE Dual-Port Fiber QSFP+ Network Adapter Boosts Network Speed
Press release date: February 11, 2014
New NIP-86020 equipped with Mellanox® Connectx-3 Ethernet controller delivers next-generation network connectivity

FREMONT, CALIF.– American Portwell Technology, Inc. (http://www.portwell.com), announces NIP-86020, the next-generation 40GbE network adapter that supports dual fiber QSFP+ ports.

Portwell's NIP-86020, leveraging the Mellanox Connectx-3 Ethernet controller, is designed with 40G Ethernet technologies fully compliant with the IEEE 802.3ba standard and provides IPv6 offloading, IEEE 1588 precision time protocol circuitry synchronization performance, RDMA over Converged Ethernet (RoCE) and Jumbo Frame functions. The new NIP-86020 delivers high-bandwidth and industry-leading Ethernet connectivity for performance-driven server and storage intensive applications in enterprise data centers, high-performance computing, as well as a variety of embedded environments. Portwell's NIP-86020 also supports virtual machine software by VMware®, Microsoft®, Citrix®, Oracle® and others through virtualization acceleration technology.

"Equipped with two high-performance 40 Gbps intelligent PCIe Gen 3.0 fiber network QSFP+ modules, NIP-86020 is compatible with all Portwell's 1U and 2U network appliances," says Oliver Chen, American Portwell Technology's product marketing manager. "What's more," he adds, "NIP-86020 can be easily installed into the systems using Portwell's user friendly design and installation kits."

A Revolutionary Product
Portwell's NIP-86020 40GbE dual-port fiber QSFP+ network interface card is designed with scalability, reliability, simplicity and affordability. It is built to delivery outstanding bandwidth capabilities for next-generation Ethernet traffic in high-end appliances.

Long Product Lifecycle Support
"Portwell always designs and develops its products with one eye on the bottom line and the other eye on making things as future-proof as possible," Chen confirms. "Our customers not only benefit from the most up-to-date technology and features, but they also gain peace of mind from the long life cycle support inherent with every Portwell product."

Product details: http://www.portwell.com/products/detail.asp?CUSTCHAR1=NIP-86020
Product availability: In addition to American Portwell Technology, Inc., the Portwell NIP-86020 Network Adapter Card is also available through Arrow Electronics, Inc. and Avnet, Inc.

About American Portwell
American Portwell Technology, Inc., is a world-leading innovator in the Network Security market and a Premier member of the Intel® Intelligent Systems Alliance. American Portwell Technology designs, manufactures and markets a complete range of communications appliances, embedded computer boards and systems and rackmount systems for both OEMs and ODMs. American Portwell is an ISO 9001:2008, ISO 13485:2003 and ISO 14001:2004 certified company. The company is located in Fremont, California. For more information about American Portwell's extensive turnkey solutions and private-label branding service, call 1-877-APT-8899, email info@portwell.com or visit us at http://www.portwell.com.

All products and company names referred to herein may be trademarks or registered trademarks of their respective companies or mark holders.

Product Contact:
Oliver Chen
Product Marketing Manager
American Portwell Technology, Inc.
510-403-3316
oliverc@portwell.com

Media Contact:
Susan Wei  
Marketing Executive  
American Portwell Technology, Inc.  
510-403-3354  
susanw@portwell.com