Twin-Shaft Channel Grinder employs submersible motors.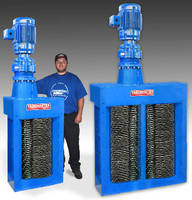 Twin-Shaft Channel Grinder employs submersible motors.
August 12, 2009 - Featuring cutting chambers optimized for handling bulky solids, TASKMASTER® TITAN (TM22000) has low headloss design and employs 2 counter-rotating shafts. One cutter stack intermeshes with second of greater diameter, promoting efficient feeding, reducing bulky solids, and helping flow pass through freely. Machine is also available as TITAN DUPLEX, featuring 2X cutting area, 10 hp motor, and cycloidal gear drive. PLC-driven S260 automatic reversing control system is also included.

(Archive News Story - Products mentioned in this Archive News Story may or may not be available from the manufacturer.)
Original Press release

DELUMPER ® Div., Franklin Miller Inc.
60 Okner Pkwy.
Livingston, NJ, 07039
USA



Taskmaster Super Titan


New Twin Shaft Channel Grinder Powerhouse

The TASKMASTER TITAN (TM 22000) is another giant step up in twin shaft channel grinding technology. This behemoth features super-heavy construction for the toughest application requirements. In addition, it features large cutting chambers capable of handling large, bulky solids, high flow capacity and proven TITAN low headloss design. The result is superior performance in both grinding and liquid handling. The TITAN provides up to ten times the cutting surface of competing units for superior longevity and performance.

The TM22000 employs two counter-rotating shafts with one cutter stack intermeshing with a second one with a greater diameter. This innovative design provides more efficient feeding and reduction of bulky solids and allows greater flow to pass through freely. The finely ground output provides excellent protection of pumps, filter presses and other downstream equipment. With its massive array of cutting surfaces, cutter life and unit strength are enhanced.

The TITAN TM22000 is available as a TITAN DUPLEX featuring twice the cutting area for higher flow and wider channel applications. The units feature a powerful 10hp motor and cycloidal gear drive. They are provided with a PLC driven S260 automatic reversing control system as well as true submersible explosion proof motors that can operate continuously submerged.

For more information contact Franklin Miller Inc. 60 Okner Pkwy. Livingston, NJ 07039 USA Phone 973-535-9200 Fax 973-535-6269 Email: info@franklinmiller.com www.franklinmiller.com

---


Start Your

Free


Subscription to


Industry Market Trends

.