Tube/Pipe Cutting Software offers broad support, functionality.
Press Release Summary: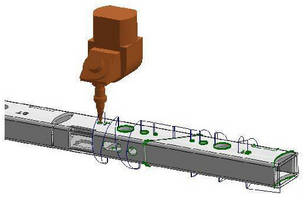 January 29, 2014 - In addition to round, square, rectangular, and triangular tube/pipe, SigmaTUBE supports such structural materials as I- and H-beams, C-channel, and angle iron. Custom programs are available to maximize features of 3D tube and pipe cutting laser machines, and multiple cutting machines can be driven with one solution. Operating seamlessly within SolidWorks® environment, solution supports multiple assembly model configurations and offers model refresh and cutting technology table features.
Original Press Release
SigmaTUBE® for Tube and Pipe Cutting
Press release date: January 22, 2014
CINCINNATI, OH — SigmaTEK Systems, LLC, the world's leading authority on CAD/CAM nesting and manufacturing process automation, announces the release of SigmaTUBE.  A complete tube and pipe cutting software, SigmaTUBE supports round, square, rectangular, or triangular tube/pipe.  In addition structural material such as I-beams,    H-beams, C-channel, and angle iron are supported. Custom programs are available to fully maximize the advanced features of Mazak FabriGear, Trumpf, BLM, Bystronic, Amada, and other 3D tube and pipe cutting laser machines.

Key features include:
• Flexibility allows multiple cutting machines to be driven with a single solution
• Supports multiple assembly model configurations
• Simple model refresh provides updated design revisions
• Cutting technology table sets cutting condition parameters
• Operates seamlessly within the SolidWorks® environment

SigmaTEK Product Manager, James Lindsey comments:
"Tube and pipe cutting has traditionally lagged in terms of sophisticated nesting; this all changes with the release of SigmaTUBE.  Powerful automatic, manual, and true shape nesting speed tube and pipe cutting processes and maximize yield. This of course translates into money saved through waste reduction. The industry's most efficient nesting is achieved by calculating the best possible combinations based on actual geometry while common-line cutting cuts shared edges at the same time reducing time and pierce points."

About SigmaTEK
Founded in 1993, SigmaTEK Systems, LLC is headquartered in Cincinnati, OH (USA) and has an extensive global support network with branches in North America, South America, Europe, Asia, Australia and Africa. For more information visit www.sigmanest.com or call 513-674-0005.

SigmaTEK develops and sells SigmaNEST®, a comprehensive software solution for nesting, NC programming and cutting of steel sheet, plate, tube/pipe, and wood.  SigmaNEST is the leading CAD/CAM nesting system for plasma, laser, punch, oxyfuel, waterjet, router, knife, tube/pipe and combination cutting machines. SigmaNEST ensures superior material utilization, machine motion optimization, and maximum part quality balanced with cutting speed, work flow integration, material handling, accurate estimates and information management.

Contact:
Robert Farrell
SigmaTEK Systems
513-595-2022
Bob.farrell@sigmanest.com

SigmaTUBE and SigmaNEST are registered trademarks of SigmaTEK Systems, LLC
SolidWorks is a registered trademark of Dassault Systemes
All other brand and product names are trademarks of their respective owners