Product News: Sensors, Monitors & Transducers
Transmitter includes FOUNDATION fieldbus communications.
Press Release Summary: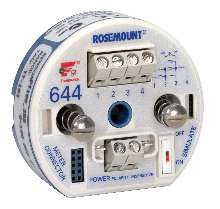 September 17, 2003 - Rosemount® 644 Head Mount Temperature Transmitter powers PlantWeb architecture by providing device and process health information to AMS predictive maintenance software. Transmitter delivers process variables as well as sensor and transmitter diagnostic information. Indication of sensor and transmitter health is provided by integral LCD display and on AMS screen. DIN Form A transmitter can be installed in hazardous locations and carries FISCO certification.
Original Press Release
Emerson Expands PlantWeb® Offering with the Introduction of the Rosemount(R) 644 Temperature Transmitter with FOUNDATION(TM) Fieldbus
Press release date: September 12, 2003
The Rosemount 644 provides excellent measurement accuracy in a compact head-mount design for demanding installations.
AUSTIN, TEXAS (September 12, 2003) - Emerson Process Management announces the addition of FOUNDATION(tm) fieldbus communications to the field-proven Rosemount® 644 Head Mount Temperature Transmitter. The addition of the Rosemount 644 with FOUNDATION fieldbus continues Emerson's commitment to digital field devices that power the PlantWeb® digital plant architecture with predictive intelligence that improves plant performance. Emerson currently offers an industry-leading breadth of more than 30 fieldbus-enabled valves and instruments.
The Rosemount 644 powers the PlantWeb architecture by providing performance information to the AMS predictive maintenance software about its 644 device health, and the process health; the transmitter delivers process variable as well as sensor and transmitter diagnostic information to increase process efficiency and reduce maintenance and operation costs. Immediate indication of sensor and transmitter health is provided by an integral LCD display and on an AMS screen. The new 644 enhances Emerson's FOUNDATION fieldbus temperature offering that includes the Rosemount 3244MVF temperature transmitter for control and safety, and 848T eight input temperature transmitter for monitoring applications.
The Rosemount 644 helps maximize process efficiency with the best accuracy available in a head-mount transmitter using the transmitter-sensor matching feature. The standard 2-year stability specification reduces maintenance and calibration costs.
As required by many customers utilizing the PlantWeb architecture, the 644 transmitter can be installed in hazardous locations and carries the Fieldbus Intrinsically Safe Concept (FISCO) certification allowing more devices per I.S. segment resulting in lower installation cost. The DIN Form A 644 transmitter is available with the new Rosemount polished stainless steel housing for biotechnology and other specialized sanitary applications.
For complete interoperability, the 644 is registered at the Fieldbus Foundation to ITK 4.5 recommendations. The Rosemount 644 has two Analog Input (AI) function blocks for ease of communication of process and transmitter temperatures to other devices. Also available is an optional PID block for single loop control. Classified as a Link Master, the field mounted 644 is able to function as a Link Active Scheduler on a segment to provide continued loop operation if the host system communications are lost.
About Emerson Process Management Emerson Process Management, an Emerson business, is a leader in helping businesses automate their production, processing and distribution components in the chemical, oil and gas, refining, pulp and paper, power, food and beverage, pharmaceutical and other industries. The company combines superior products and services. A division of Emerson, Rosemount Inc. is a global leader in high-precision pressure, temperature, flow, and level instrumentation. Rosemount best-in-class technology and expertise play a key role in consulting, project management and maintenance services. Emerson brands include PlantWeb®, Rosemount, Micro Motion®, Fisher®, DeltaV(tm), Ovation®, and AMS.
About Emerson St. Louis-based Emerson is a global leader in bringing technology and engineering together to provide innovative solutions to customers in process control, electronics and telecommunications, industrial automation, heating, ventilating and air conditioning, and appliance and tools. Sales in fiscal 2002 were $13.8 billion.
PlantWeb, Rosemount, Micro Motion, Fisher, and DeltaV, and Ovation are marks of Emerson Process Management. All other marks are the property of their respective holders.
CONTACTS: Kathy Higgins, Emerson Process Management, Rosemount Division 1 (952) 949-5165, Kathy.Higgins@EmersonProcess.com
Peter Dossing, Emerson Process Management 1 (512) 832-3162, Peter.Dossing@EmersonProcess.com