Product News: Test & Measuring Instruments, Electrical Equipment & Systems, Sensors, Monitors & Transducers, Optics & Photonics
Transmitter and Analyzer measure turbidity and DO or pH.
Press Release Summary: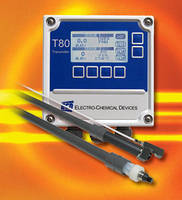 June 9, 2014 - Dual-channel T80 Universal Transmitter and Triton TR6 Turbidity Analyzer serve wastewater treatment technicians who need to measure turbidity and dissolved oxygen (DO) or pH levels in secondary clarifiers. Products can work with S80 Intelligent Sensors to measure DO, pH, or 5 other liquid parameters. While T80 features self-configuring electronics and eliminates need for multiple transmitters, TR6 measures suspended solids or turbidity in 4 selectable dual ranges.
Original Press Release
Measure Turbidity and DO or pH in Secondary Clarifiers with New Dual Channel Universal Transmitter
Press release date: May 6, 2014
Ideal for Municipal Wastewater Treatment In Secondary Clarifier Operations

Irvine, CA – Wastewater treatment technicians who need to measure turbidity and dissolved oxygen (DO) or pH levels in secondary clarifiers will find the dual channel T80 Universal Transmitter and Triton TR6 Turbidity Analyzer from Electro-Chemical Devices, Inc. (ECD), can be easily combined with the S80 Intelligent Sensors to measure DO, pH or five other common liquid parameters.

The dual channel T80 Transmitter features self-configuring electronics, which provide a fast, easy plug-and-play monitoring solution for waste water treatment. In secondary clarifiers, careful analysis of turbidity, DO, pH and other parameters optimizes the treatment process.

The T80 Universal Transmitter eliminates the need to buy multiple transmitters to monitor turbidity, DO, pH, ORP, pION, conductivity or resistivity.  With one transmitter processing data from two sensors such as turbidity and DO or pH, the installation requirements are greatly simplified as well as future maintenance.

The Triton TR6 Sensor measures suspended solids or turbidity in four selectable dual ranges featuring pre-set low and high ranges from 0 to 4000 NTU. Its sophisticated optical IR sensor emits a beam of 850 nm (near infrared light) into a water sample where it is scattered by particles suspended in the water. The amount of light reflected back to the sensor by the particles is correlated to the turbidity or suspended solids present.

The flexible Triton TR6 Sensor provides turbidity measurement in milligrams per liter (mg/L), parts per million (ppm) and percent solids of the suspended solids in the water. Turbidity measurements (NTU, FNU) are calibrated to the specific user application environment with standards such as Formazin, StablCal or SDVB beads.

The Triton® DO80 Optical Dissolved Oxygen sensor uses fluorescence quenching to determine the oxygen concentration in water. The use of this optical method by the Triton® DO80 minimizes maintenance, increases reliability and improves the long term accuracy of the measurement.

The S80 Intelligent Sensors pH sensors come in either an insertion/submersion configuration or valve retractable configuration with flared end to prevent blow out.  The S80 pH sensor electrodes measure from 0-14 pH.  They feature Radel (PES) or PEEK construction materials with single tine, double tine or full crown style pH bulb protection.  Spherical bulbs provide the best response, while hemispherical bulbs are more durable and a slightly radiused flat surface is more easily cleaned. They are available in various materials of construction to maximize performance while reducing the cost of ownership.

About Electro-Chemical Devices

Electro-Chemical Devices (ECD) is a manufacturer of liquid analytical process instrumentation. Founded in 1977, ECD has been in business for over 30 years and has built its industry leading reputation by its commitment to customers through this basic approach: Provide quality products, develop technical innovations and provide responsive, knowledgeable service.

Company Contact: 
Joe Bradley
949-336-6060
Company Address 
1681 Kettering
Irvine, CA 92614 USA
Web:  http://www.ecdi.com 
Email:  sales@ecdi.com
Tel: 800-729-1333
Tel: 949-336-6060 
Fax:  949-336-6064

Editor's Contact:
Randy Brown
909-335-1941 
Email:  brownr@rbmarketing.com