Transceiver suits small, wireless applications.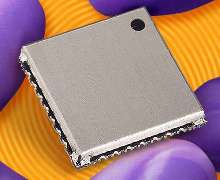 Transceiver suits small, wireless applications.
November 17, 2003 - Using proprietary FHSS technology, miniature 900 MHz AC4490-1x1™ measures 1 in.˛ and enables engineers to design-in full wireless capability. All components are integrated into multi-chip module design. Transceiver includes proprietary RF232™ embedded protocol for plug-and-play installation and TTL serial interface that provides bi-directional communication. With up to 115.2 Kbps serial interface data rate, product provides interference rejection and maintains data integrity.

(Archive News Story - Products mentioned in this Archive News Story may or may not be available from the manufacturer.)
Original Press release

AeroComm Inc.
10981 Eicher Dr.
Lenexa, KS, 66219
USA


Tiny Transceivers put the Power of Wireless into the Smallest, Most Cost-Sensitive Applications
Lenexa, Kansas –November 10, 2003 – AeroComm is breaking new ground in the short-range wireless market today with the launch of its mini all-inclusive 900MHz FHSS transceiver. The one-inch-square module becomes the key component for creating local RF networks where tight space, low power and limited resources are the OEM's biggest concerns.

AC4490-1x1™ is so comprehensive that engineers of varying RF experience can design-in full wireless capability with minimal effort. All components, including firmware, are integrated into its sleek multi-chip module design. Development is straightforward: modules and antennas are simply mounted into place (via hand-solder or surface-mounted with automatic pick-and-place equipment), then powered on. No special host software is required; 1x1s directly appear to the system as cables.

The modules contain AeroComm's RF232™ embedded protocol, which allows for plug-and-play installation. RF232 guarantees successful communication while making the process invisible to the OEM. Over-the-air issues are managed in the firmware to synchronize, hop, gain acknowledgements, send retries, detect errors, address messages, secure transmissions and other features unique to RF that newcomers may overlook.

The 1x1's standard TTL serial interface provides bi-directional communication in point-to-point, point-to-multipoint, or multi-to-multi networks. A number of on-the-fly control commands accommodate varying wireless applications. Using field-proven proprietary FHSS technology, 1x1s provide interference rejection, enable co-located system operation, increase output power, and maintain data integrity.

Despite their small size, 1x1 transceivers are packed with versatility:

· Up to 115.2 Kbps serial interface data rate.

· 1mW to 10mW variable output power.

· Local/remote I/Os:

- (2) digital input lines; (2) digital output lines.

- (1) A/D input line; (1) D/A output line.

· –40C to +80C industrial temperature durability.

· Priced lower than any other inclusive 900MHz module—less than $20 each in volume.

"The 1x1 is our response to market demand for more powerful features in ever-smaller, less expensive transceivers," said AeroComm CEO Michael Varady. "By providing a robust product at a fraction of the size and price of comparable modules, we aim to make RF practical for any application. Our distinct combination of higher integration and higher intelligence promises current and future wireless success to OEMs of all backgrounds."

As the industry's smallest, most complete product, AC4490-1x1 is targeted primarily at industrial and commercial battery-powered applications such as meter reading, building controls, point of sale and home automation (visit www.aerocomm.com/applications.htm for a full list of short-range wireless uses). 1x1 can be used in portable, mobile and fixed applications in the U.S., Canada, Australia and South America. The modules will be available from AeroComm, Avnet, and premier distributors worldwide. Developer tools and support back every AeroComm RF product.

About AeroComm

Formed in 1990, AeroComm Inc. has played a major role in the short-range RF industry for over a decade with consistent technological advances in both performance and price. The company made waves in 1994 by gaining FCC approval for the first 2.4GHz spread spectrum transceivers. Soon after, it introduced its groundbreaking $200 digital sequence commercial module. In 1996 AeroComm shifted to frequency hopping for greater interference immunity in any environment. Its innovative design techniques resulted in superior modules using inexpensive materials—producing a cost-per-module that suited vastly more applications. AeroComm broke the $100 price barrier in 1998. Responding to the growing demand for affordable yet versatile wireless, it quickly developed the first complete line of 2.4GHz OEM RF transceivers. These products were backed by the company's own fully-automated radio testing system, measuring all critical parameters and assuring the highest quality.

Today the company continues to support a myriad of applications where wireless was previously cost-prohibitive. Its robust proprietary technology, manufacturing and testing guarantee reliable communication, while lower frequencies and fewer parts allow for reduced prices. Additionally, AeroComm has adopted the motto of "Instant Wireless"—a commitment to facilitate fast and easy RF integration. Its comprehensive development tools and personal engineering support help OEMs reduce R&D schedules, expenses and uncertainties while accelerating time to market. The company's breakthrough RF232™ transparent protocol further simplifies the wireless effort by making transceivers perform as wires. Visit www.aerocomm.com for more.
---


Start Your

Free


Subscription to


Industry Market Trends

.