Product News: Computer Hardware & Peripherals
Touch Panel PCs feature die-cast aluminum housing.
Press Release Summary: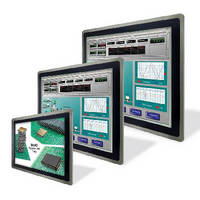 July 31, 2014 - Combining compact, rugged aluminum die-cast housing with open platform HMI powered by Intel® Atom™ processor E3845, Value Line Touch Panel PCs are available with display sizes from 7–21.5 in. Processor features integrated memory controller, virtualization, error correcting code, and built-in security capabilities within TDP of 10 W. Aluminum die cast housing offers advantages such as lightweight frame, corrosion resistance, and high thermal and electrical conductivity.
Original Press Release
AIS Announces New Aluminum Die Casting Tooling for their Affordable, Industrial HMI Touch Panel PCs to Help OEMs and End-User Customers Dramatically Reduce Overall Control Systems Costs
Press release date: July 28, 2014
AIS's Touch Panel PC with Robust Die-Cast Aluminum Housing Lower Overall System Cost by Up To 15% While Improving Quality, Mechanical Engineering and Manufacturing Efficiency

IRVINE, CALIFORNIA –  American Industrial Systems, Inc. (AIS), an Open HMI Panel PC and Industrial PC (IPC) manufacturer, announces to use a new aluminum die cast tooling for use in their new family of "value line", industrial touch panel and PC-based HMIs. The new aluminum die cast tooling improves quality, mechanical engineering and manufacturing efficiency among other things. In addition, the company touts the new robust, die-cast aluminum housing for the HMI touch panel PCs significantly reduces costs for customers -- by up to 15% lower overall system cost. In applications requiring low cost and durable HMI solutions, the ability to lower overall systems costs is critical to success for OEMs customers winning new sales orders in cost sensitive applications.

Set for release in October of 2014, AIS's new offering of Value Line Touch Panel PCs will feature the aluminum die cast tooling and housing which will serve up many new benefits to customers. The new Value line from AIS will combine the advantages of a compact, rugged aluminum die-cast housing with an open platform HMI powered by the Intel® Atom™ processor E3845 as the processor engine. Specifically designed for intelligent or smart HMI applications, the Atom E3845 processor is energy efficient and offers other benefits as well. The new family of open platform PC-based HMIs from AIS will be available in a wide selection of screen sizes and models including:  7", 8", 10", 12.1", 15", 17", 19", and 21.5" displays.

Aluminum Die Cast Housing of AIS's Value Line Touch Panel PCs Offer Customers Many Performance Advantages & Cost Savings
While lowering overall systems costs greatly, using aluminum die cast housings for AIS's new family of industrial touch panel PC-based HMIs offer many advantages and benefits including: cost savings, a lightweight frame, high dimensional stability, superior corrosion resistance, improved mechanical properties, high thermal and electrical conductivity, and the ability to retain strength at high temperatures. These capabilities will benefit OEMs and end-users alike in a wide cross section of industries and markets – from simple OEM discrete machines to challenging process environments like chemical, food & beverage, packaging, pharmaceutical, power generation, water/waste water and many more. The all-aluminum die cast housing will be found in AIS's upcoming new Value Line PC-based HMI product introduction scheduled for Q3-4 of 2014 and the benefits include:

• Reduced Overall System Costs & Savings Of Up To 15% for Customers
• Light Weight Housing Reduces System Weight and Mounting
• Improved EMI Shielding & Rejection
• Better Thermal Management & Heat Dissipation
• Aluminum Offers Corrosion Resistance & Durability

The Trend is for Low Cost, Rugged HMIs that Offer Advanced Performance, Features and Functionality
Industrial Touch Panel PCs play a key role in Human Machine Interface (HMI), factory automation, process control, and instrumentation applications. More specifically, Open Platform, Touch Panel PC-Based HMIs from AIS allow for the efficient operation, control and monitoring of essential production machinery and devices. Growth in the automation and control industries continue to drive innovation for new and improved control and monitoring systems at lower costs. New IoT, M2M and Industry 4.0 are also creating new opportunities for control system and machinery makers. As OEMs incorporate lower cost HMIs and touch panels into their equipment and machinery, they benefit greatly from increased cost savings by passing these savings onto their customers. The end result: they can establish a competitive market advantage in low cost or cost-sensitive control and visualization applications.  Nelson Tsay, President of AIS adds "Cost cutting measures are universal in manufacturing today, and will be in the future. The trend continues for a greater return on value from their control and monitoring investment. AIS is committed to developing and engineering new HMI solutions that meet customers' needs and requirements and will give them a superior competitive edge. The new lower cost aluminum die-cast housing is just one of many new innovative ways we strive to do that."

AIS's New Family of Industrial Touch Panel HMIs are Powered by Intel® Atom™ Processor E3845 Designed Specifically for Intelligent HMIs & Superior Performance
AIS incorporates the latest processors, technologies and chip sets in their PC-based HMI engine designs to assure the highest levels of performance, features and system functionality.  With the upcoming HMI Value line introduction in Fall of 2014, AIS will utilize the Intel® Atom™ processor E3845 in this new series of open platform HMIs. This processor is the first system-on-chip (SoC) designed for intelligent HMI systems, delivering outstanding processing, graphical and media performance while operating in an extended range of thermal conditions. This extends the range of application possibilities in industrial and factory applications that have challenging environments. These SoCs are based on the Intel® Silvermont microarchitecture, utilizing Intel's industry-leading 22nm process technology with 3-D Tri-Gate transistors. The Intel® Silvermont microarchitecture is responsible for delivering significant improvements in computational HMI performance and energy efficiency. Highlights of the Atom product family include: high I/O connectivity, integrated memory controller, virtualization, error correcting code (ECC), and built-in security capabilities within a thermal design power (TDP) of 10W.

About AIS
Headquartered in Irvine, California, USA, American Industrial Systems, Inc. (AIS) offers in-house electronic and mechanical design, software development, Manufacturing, Production and Quality Control Services. Offering one of the widest ranges of Industrial Computing Solutions, AIS solutions are available in a multitude of configurations for Industrial, Oil & Gas, Military and Marine Applications. The company is fully committed to empowering, improving and delivering turnkey HMI, monitoring and display solutions for OEM, ODM and end-user customers.

AIS is an ISO 9001:2008 Certified Supplier and Manufacturer of rugged computers and displays, and received completion of the GSA IT 70 schedule contract, and International Traffic in Arms Regulations (ITAR) registration from the Directorate of Defense Trade Controls (DDTC). For more information, visit: www.aispro.com  email: sales@aispro.com or contact: 1-888-485-6688.

Media Relations Contact:
American Industrial Systems, Inc.
David G. Martorana
Public Relations
Tel: 1-847-630-6487
Email: dgmcreative@sbcglobal.net