Product News: Computer Hardware & Peripherals
Touch Panel Computer offers fanless HMI solution.
Press Release Summary: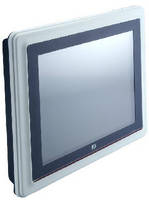 February 11, 2013 - Based on 1.6 GHz Intel®  Atom™ Cedarview N2600 processor and Intel® NM10 Express chipset, 12.1 in. Model GOT5120T-832 is available with XGA color 1,024 x 768 TFT LCD with brightness of 500 nits or SVGA color 800 x 600 TFT LCD with brightness of 450 nits. System includes 204-pin SODIMM socket that supports up to 2 GB DDR3 system memory, 2.5 in. SATA HDD and CompactFlash™ for storage, PCIe Mini Card slot, and built-in WLAN antenna. Plastic front panel is IP65/NEMA 4-rated water/dust-proof.
Original Press Release
Axiomtek GOT5120T-832, Intel® Atom(TM) Cedarview 12.1-inch XGA/SVGA TFT Fanless Touch Panel Computer, Ideal as an Information Display System in Factory Automation or Commercial Space
Press release date: January 31, 2013
Taipei, Taiwan, -- Axiomtek unveils its new Cedar Trail-based 12.1-inch XGA/SVGA TFT fanless touch panel computer, GOT5120T-832.  It offers options of XGA color resolution 1024 x 768 TFT LCD display with brightness 500 nits or SVGA color resolution 800 x 600 TFT LCD display with brightness 450 nits.  The GOT5120T-832 provides advanced graphics processing capability via the new dual core Intel® Atom™ Cedarview processor N2600 at 1.6 GHz in 45nm technology with Intel® NM10 Express chipset.  By adopting the new Intel® Cedar Trail platform, it offers an excellent balance between high graphics performance and low power consumption.  In addition, with Axiomtek's patent for plastic plus aluminum mechanism design, the GOT5120T-832 can dissipate heat easily and keep the system operation stably.  Our new sleek HMI (Human Machine Interface) can be used interactively by people such as shopping center/supermarkets as a touchscreen infotainment kiosk or information display in factory/building automation fields.

"Axiomtek's all-in-one 12.1 inch GOT5120T-832 comes with superior computing & graphics performance and power saving advantage with Intel® AtomTM processor N2600. It provides application operators with seamless integration, while enabling them to quickly launch a highly functional solution" said Virgil Hsu, Product Manager of Product Marketing Division at Axiomtek.  "This streamline touch panel computer is an ideal fanless HMI system because it offers a sleek ID and has an IP65/NEMA 4 protection design making it ideal for factory automation or commercial space as an information display system."

IP65/NEMA water/dust-proof design
To withstand harsh operating environments, the GOT5120T-832 is made with a robust mechanical design and has an IP65/NEMA 4-rated water/dust-proof front panel to prevent the system from outside damage. 

Built-in WLAN antenna (optional)
Considering to the popular network environment, the durable GOT5120T-832 offers a PCI Express Mini Card slot and a fixed rotational WLAN antenna (optional) for wireless network connection in real time.  By just plugging in the WLAN Mini Card, users can have instant access to wireless LAN/GPRS/GSM/3G easily.

Anti-vibration up to 2G
With a special vibration-resistant design patent, this CE-certified touch panel platform can work well under 2G (5~500Hz, random for CompactFlash™) in operation mode.

The GOT5120T-832 outfits two 10/100/1000Mbps Ethernet ports for network connection.  In addition, the extreme slim touch computer provides two types of power inputs; one is DC power input with terminal block connector, the other is AC power adapter with screw type connector.  It has one 204-pin SODIMM socket supports up to 2 GB DDR3 system memory.  Other features the GOT5120T-832 accommodates are, optional RFID (radio frequency identification), 2.5" SATA HDD & CompactFlashTM (vibration resistance up to 2G) for storage capacity, various mounting ways of panel/wall/VESA arm/desktop stand (optional), rich I/O of 2 COM (1 x RS232-/422/485, 1 x RS-232), 4 USB 2.0 and Audio (line-out).  Last, but not least, this new robust HMI offers full compatibility with the Windows® Embedded 7 (32-bit) and Windows® 7 (32-bit).

The NEW Intel® Atom™ Cedarview powered GOT5120T-832 is available now.  For more product information, please visit global website www.axiomtek.com or contact our sales representative at info@axiomtek.com.tw .

Main Features:
12.1-inch XGA/SVGA TFT fanless touch panel computer with Intel® AtomTM Cedar Trail processor N2600 at 1.6 GHz
Fanless and noiseless operation design
XGA color resolution 1024 x 768 TFT LCD display with brightness 500 nits or SVGA color resolution 800 x 600 TFT LCD display with brightness 450 nits
IP65/NEMA 4-rated plastic front bezel against dust and water splash
A PCIe Mini Card slot and a built-in WLAN antenna for wireless LAN/GPRS/GSM/3G connections
Optional RFID function
2.5" SATA HDD and CompactFlashTM for storage capacity
Thermal solution and anti-vibration (up to 2G for CompactFlashTM) design
Various mounting ways: Panel/Wall/VESA arm/Desktop stand (optional)
I/O features of 2 COM, 2 Ethernet, 4 USB 2.0, 1 VGA and Audio (line-out)