Torque Limiter delivers zero backlash operation.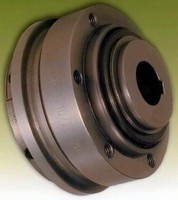 Torque Limiter delivers zero backlash operation.
February 22, 2006 - Mechanical Torque Limiter isolates driving from driven elements within milliseconds. While offering precise overload protection, rotary motion control product is torsionally rigid and provides double bearing support of pulley/sprocket. Product is factory-set to lowest torque within range and can be adjusted without being removed from application. Areas of use include machine tools, automation equipment, industrial robots, and servo/dc motor drives.

(Archive News Story - Products mentioned in this Archive News Story may or may not be available from the manufacturer.)
Original Press release

Nexen Group
560 Oak Grove Pkwy.
Vadnais Heights, MN, 55127
USA



Nexen Mechanical Torque Limiter Delivers High Performance and Zero Backlash


(Vadnais Heights, Minn. - ) Nexen announces their newest rotary motion control product, the Mechanical Torque Limiter. The use of a Nexen Mechanical Torque limiter will isolate the driving from the driven elements within a matter of milliseconds. Mechanical Torque limiters feature high performance, zero backlash, and are adjustable. Torque limiters are factory set to the lowest torque within the torque range.

The trend in the industry is to design and incorporate more automation into production processes. Machines are becoming more accurate, requiring a higher degree of precision. They are becoming faster, using servo and DC drive technology, and they are more rigid to withstand the dynamic loads necessary to increase capacity and productivity. Machine downtime in an automated production environment is very costly. Broken components, expensive technicians, and long lead times for custom components can make the difference between operating profitably or not.

Key features and benefits of Nexen's Mechanical Torque Limiter include:

o Precise overload protection
o Absolutely backlash-free and torsionally rigid
o Compact, simple design
o Low residual friction following disengagement
o Low moment of inertia
o Double bearing support of pulley/sprocket
o Adjustable without removal from the application
o Actual values marked rather than percentages
o Indexed torque adjustment, no guessing about torque settings.

Areas of application Nexen Mechanical Torque Limiters are ideal for are machine tools, automation equipment, industrial robots, the textile industry, sheet metal processing machines, and Servo + DC motor drives.

Nexen is a leading manufacturer of brakes, clutches, servo motor and linear motion brakes, torque limiters, and web tension control systems for a variety of industrial applications ranging from motion control and robotics to packaging and material handling. With headquarters in Vadnais Heights, Minn., Nexen has sales offices throughout the United States, Europe, Japan, Mexico, and Australia with more than 1,500 distributor sales outlets. For more information on Nexen's line of linear motion control products, contact:

Sarah Niosi
Marketing Communications
560 Oak Grove Parkway
Vadnais Heights, Minn. 55127
651/286-1054

www.nexengroup.com

---
User comments about this story
urgent torq controller
I urgently need a torque controller
when motor is overload (%130) it will warn
when motor is overload (%170) it will stop the motor
we urgently want to buy 36 pieces torque controller
By
şenol meriÁ on Nov 10, 2010 06:47
Reply to this comment


Start Your

Free


Subscription to


Industry Market Trends

.