Torque Control Tool has ergonomic design.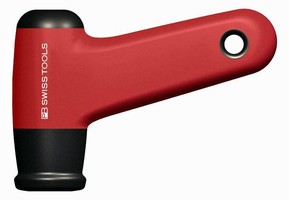 Torque Control Tool has ergonomic design.
July 6, 2007 - Suited for machining and delicate assembly work, PB MultiTorque® combines release mechanism of torque device with grip of standard PB Crosshandle screwdriver. Handle is covered with soft Santoprene® for maximum grip, and automatic switch off button allows battery life span of more than 10 yr. Resistant to chemicals, flexibly adjustable tool features 2.4-11.8 ft-lb range with ±6% accuracy complying with EN ISO 6789 standard.

(Archive News Story - Products mentioned in this Archive News Story may or may not be available from the manufacturer.)
Original Press release

PB Swiss Tools
2481 Hilton Dr.
Gainesville, GA, 30501
USA



PB Multitorque® - Absolute Power Control


Gainesville, GA, June 27, 2007: Excessive torque can cause damage while insufficient torque can pose a safety risk. The new PB MultiTorque® combines the reliable release mechanism of a torque device with the good grip and handiness of a standard PB Crosshandle screwdriver. Thanks to its pleasant grip and resistant to chemicals, the PB MultiTorque® is ideal for jobs requiring maximum ergonomics and quality. The special PB mechanism allows an ultra-small triggering angle for ergonomic performance. In machining and delicate assembly work, it is extremely important to be able to control the tightening torque for screws.

Special features include:

o The handle is covered with soft Santoprene® which allows for maximum grip, therefore easily reaching much higher torques with MultiTorque®.
o Large range of 3.2 -16 Nm (2.4 -11.8 ftolbf), and is flexibly adjustable.
o High accuracy, delivered with a certificate according to EN ISO 6789 (+/- 6 %)
o The MultiTorque® has the same electronics and thus also the same advantages as the DigiTorque® v 2.0:
o switching on with the press of a thumb
o battery life span of more than 10 years thanks to an automatic switch off function
o effortless switching of the torque display between Nm and ft/lb.
o The MultiTorque® can be used for all interchangeable blades PB 225. The bit holder allows in addition the use of all PrecisionBits® from the C6 program.

PB Swiss Tools specializes in high quality hand tools that are designed for anyone requiring precision and optimum performance. This is because PB Swiss Tools manufactures using a very unique spring-steel alloy and the latest in robotic assembly technology. These tools (Screwdrivers, Torx® drivers, Hex Keys, and more!) are sold with a variety of handles, individually or in sets, and some are even gold plated! These tools are proven to out last any tool you have ever owned. All of this and the tools are backed by an unlimited lifetime guarantee, so you never have to worry about buying another tool again. We are familiar with the demands that professionals and DIY enthusiasts place on these first-class tools that are in daily use in over 30 countries world-wide. As customers are able to work successfully with these tools, they happily recommend our brand to other people.

---


Start Your

Free


Subscription to


Industry Market Trends

.