Toolholding System provides alternative to collet style.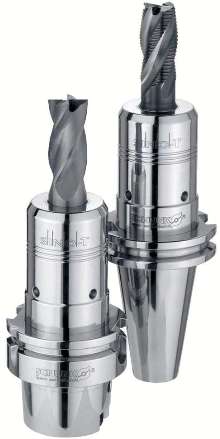 Toolholding System provides alternative to collet style.
September 16, 2004 - With run-out accuracy of 5 microns, SINO-T provides consistent support across entire clamping zone. Actuation is performed by using C-spanner wrench. Standard unit is fine balanced to G6.3 at 15,000 rpm. Available with CAT 40 and HSK-A 63 spindle interfaces, vibration-dampening system incorporates facility for Ī0.005 mm axial length adjustment of cutting tools.

(Archive News Story - Products mentioned in this Archive News Story may or may not be available from the manufacturer.)
Original Press release

Schunk
211 Kitty Hawk Dr.
Morrisville, NC, 27560
USA


SINO-T - Revolutionary Toolholding System As An Alternative To Conventional Collet Style Toolholders
SCHUNK Inc. introduces SINO-T, a new toolholding system offering ease of handling, more reliable tool clamping, vibration dampening and a run-out accuracy of 5 microns for optimum cutting performance at an unbeatable price/performance ratio.

SINO-T toolholders are based on the principle of a stiff body as a clamping medium providing consistent support across the entire clamping zone. The toolholder is easy to handle and actuation is performed by using a C-spanner wrench. The result is a more stable and even clamping pressure providing a high transmission of torque in comparison to Collet style holders. The standard version of SINO-T is fine balanced to G6.3 at 15.000 RPM and therefore protects the machine spindle, as well as the tool's cutting edge, from damage. Excellent dampening characteristics reduce machining noise and increase smooth cutting. The result is a high tool life and a superior quality of workpiece surface finish.

To further increase the flexibility of the toolholder, intermediate sleeves can be used to clamp different tool diameters. These sleeves can be used for peripheral coolant and also for through- coolant tooling.

SINO-T toolholders incorporate the facility for +/-0.005 mm precise axial length adjustment of the cutting tools, which assists in the ease of handling and set-up speed. This is a considerable advantage compared to conventional Collet Style toolholders.

SINO-T is available with two spindle interfaces: CAT 40 and HSK-A 63. Both spindle interfaces are available in metric and inch versions together with a range of intermediate sleeves.

SINO-T is yet another offering from SCHUNK's Total Tooling Program!

SCHUNK INC.

211 Kitty Hawk Drive

Morrisville, North Carolina 27560

Phone: 919.572.2705 or

800.772.4865

Fax: 919.572.2818

www.schunk-usa.com

info@schunk-usa.com
---


Start Your

Free


Subscription to


Industry Market Trends

.