Tiny Pumps dispense small amounts.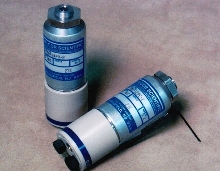 Tiny Pumps dispense small amounts.
November 28, 2001 - SV700 Series of inert, solenoid-operated micro pumps are suitable for dispensing re-agents, dilutants and lubricants. Pumps are less than 3 in. high, have diameter of 1.10 in., and dispense volume of 50-250 µL. Available with glass-filled polypropylene pump head and EPDM or viton elastomers, pumps are compatibile with wide range of fluids. Fluid connections include 1/4-28 flat bottom ports, tube stubs and surface-mount manifolds.

(Archive News Story - Products mentioned in this Archive News Story may or may not be available from the manufacturer.)
Original Press release

Valcor Engineering Scientific Div.
2 Lawrence Rd.
Springfield, NJ, 07081
USA


Valcor's New Micro Pump Series Offers Reduced Envelope, Multiple Configurations
SPRINGFIELD, NJ - Valcor Scientific, a division of Valcor Engineering Corp. is offering its new SV700 Series of inert, solenoid operated micro pumps. Celebrating its 50th year, Valcor Scientific has been a leader in the design and manufacture of a broad range of pumps and valves for analytical chemistry, biomedical, medical instrumentation, and light industrial applications.

Typical applications for Valcor's new SV700 Series are dispensing reagents in clinical instrumentation, dispensing dilutants in analytical instrumentation, dispensing lubricants in various other industry-specific applications.

The SV700 Micro Pumps feature:
* Small size to meet market demands
* Compatibility with wide range of fluids and standard materials
* Positive shut-off to prevent siphoning when not in use
* Easy to set required dispense volumes.

Less than 3" high, with a diameter of 1.10", and a dispense volume of 50 to 250 µl, Valcor's new SV700 Series is specifically designed to meet the demands of the instrumentation marketplace.

It can reliably dispense small volumes of low-density fluids with a low wattage solenoid (5.3 watts). A broad selection of standard materials of construction is available to allow for a wide range of fluid compatibility.

Manufactured with a glass-filled polypropylene pump head, and either EPDM or Viton Elastomers, the SV700 is available with a variety of fluid connections. These include: ¼-28 flat bottom ports, tube stubs, and a surface mount manifold configuration. Offered in both 12 and 24 VDC, the standard electrical connection is 10" TFE insulated flying leads. Amp and Molex connections can be provided.

Valcor's SV700 series of Micro Pumps was specifically designed to be user friendly in both its ease of installation and settability. Several configurations of the SV700 Micro Pump-Series are being offered, all versions based on a core group of components. This allows for ease of field service and conversion between both elastomeric compounds and port configurations.

---


Start Your

Free


Subscription to


Industry Market Trends

.