Product News: Electrical Equipment & Systems, Mounting & Attaching Products
Threadless Connector promotes reliability in subsea environments.
Press Release Summary: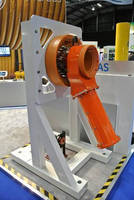 March 13, 2014 - Accelerating and facilitating reliable installation and maintenance in subsea production systems, FLX360 multiple quick connector (MQC) is used to attach hydraulic lines and other associated equipment to each other. MQC, or stab plate, reduces corrosion and connection seizure issues caused by marine and calcerous growth, and only one moving part is located subsea for life of equipment. Guidance features on tool and stab plates help avoid any angular, rotational, and lateral misalignment.
Original Press Release
New GE Design Enables Critical Subsea Equipment to Reliably Connect and Disconnect in Harsh Environments
Press release date: March 4, 2014
In an "Industry First," the FLX360* Eliminates Traditional, Seizure-Prone Screw Threads
Allows Subsea Flying Leads to be Easily De-Coupled When Maintenance is Required
Improves Equipment Reliability and Customer Efficiency in Harsh, Deepwater Environments

ABERDEEN, SCOTLAND – Creating a dramatic change in the reliability of connection technology for subsea production systems, GE Oil & Gas (NYSE: GE) has introduced the FLX360, a multiple quick connector (MQC), designed to make subsea installation and maintenance faster, easier and more reliable.

In subsea production systems, there is a need to attach hydraulic lines and other associated equipment to each other. Traditionally an MQC, or 'stab plate,' with screw threads—much like a household nut—is installed on subsea structures and the cables and leads are then attached—much like a household bolt. The integrity of these connections is paramount to the overall reliability of the subsea distribution system.

Over time the corrosive, high pressure subsea environment can lead to degradation of the threads, with frequent connection failures experienced by installation contractors and operators during life of field. The result; a connection system that proves easy to attach when new, but often very difficult to de-couple after years of service during required maintenance or equipment replacement. This, in turn, translates into longer staff hours for service, more effort, more downtime—and higher costs.

After working closely with customers to identify issues posed by connector models with traditional stab plates, GE's UK-based subsea engineering team went back to the drawing board, re-designing the technology and removing the screw threads in their entirety—which is an industry first. The resultant FLX360 is an innovative solution that reduces the corrosion and connection seizure issues previously experienced due to marine and calcerous growth; a common and costly problem. GE has also reduced the number of moving parts that would typically be located subsea for the life of the equipment, from 16 to one.

The design of the FLX360 adopts a mechanism comparable to that seen in a bayonet fitting on a light bulb. In this type of threadless design, small pins are located on the side of the unit that is to be attached. When a remote operating vehicle (ROV) mates the unit to the base, the ROV then rotates it so that the pins catch and lock. Guidance features on both the tool and stab plates help to avoid any angular, rotational and lateral misalignment possibilities, giving the operator the most 'room for error' on the market today.

Paul White, Director-Subsea Technology at GE Oil & Gas Subsea Systems, said: "The FLX360 is a clear example of common-sense engineering, showcasing our 'systems-wide' approach in the evolution of subsea technologies. Stab plates are a critical component which, once engaged, are held together by a huge force. They should remain in position regardless of external conditions for many years, but should also be able to be 'de-mated' on demand. Our continous drive for improvement prompted us to re-visit the design and we are confident that the FLX360 offers a solution that significantly reduces risk, removing the reliability issues in this key aspect of our customers' operations."

By removing the vulnerable moving parts typically sited within the subsea component and locating them within the installation tool itself, the connection system can be exercised without disconnecting hydraulics. The solution allows the provision of clear information to the operator during tool engagement and facilitates improved ease of recovery for servicing purposes.

The FLX360 will be deployed on a large offshore natural gas field production project in North-West Australia in the fourth quarter of 2014.

GE Oil & Gas is exhibiting at booth #1801 during Subsea Tieback 2014, taking place in San Antonio, Texas, from March 4-6.

*FLX360 Multi-Function Subsea Connection System

About GE

GE (NYSE: GE) works on things that matter. The best people and the best technologies taking on the toughest challenges. Finding solutions in energy, health and home, transportation and finance. Building, powering, moving and curing the world. Not just imagining. Doing. GE works. For more information, visit the company's website at www.ge.com.

About GE Oil & Gas

GE Oil & Gas works on the things that matter in the oil and gas industry. In collaboration with our customers, we push the boundaries of technology to bring energy to the world. From extraction to transportation to end use, we address today's toughest challenges in order to fuel the future. Follow GE Oil & Gas on Twitter @GE_OilandGas.

Media contacts:
GE news
Masto Public Relations
Email: information@mastopr.com

Fabio Pianini
GE Oil & Gas
Phone: +39 342 391 3298
Email: fabio.pianini@ge.com

Tom Murnane
Masto Public Relations
Phone: +1 518 786 6488
Email: tom.murnane@mastopr.com

Howard Masto
Masto Public Relations
Phone: +1 518 786 6488
Email: howard.masto@ge.com