Product News: Electrical Equipment & Systems
Threaded Receptacles require no special tools.
Press Release Summary: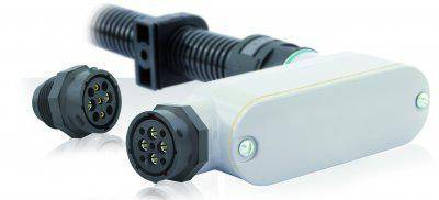 February 11, 2013 - Designed to fit in place of conventional cable glands, UTS Threaded Receptacles are suited for industrial applications, such as junction boxes and variable speed drives on induction motors where they can be used to carry signals, power, or both. Units are available in 5 layouts and 3 sizes of 10, 14, and 18. Offered in metric, Pg, and NPT thread standards, receptacles are UL 1977 and UL 94-V0 approved, UV resistant, and IP68/69K rated for harsh environments.
Original Press Release
UTS Threaded Receptacles
Press release date: January 31, 2013
UTS threaded receptacles are the latest addition to Souriau's UTS connector series. They are designed particularly for industrial applications, such as junction boxes and even variable speed drives on induction motors, and fit in place of conventional cable glands.

Ninety percent of connections on induction motor relays are made via cable glands – fittings that secure and seal cables to junction boxes – instead of connectors. The new Souriau UTS threaded receptacles make installation and maintenance much easier. Whereas before it was necessary to open a junction box, make the necessary connections, close the box and fit a cable gland, now you just have to connect and disconnect the box.

UTS threaded receptacles are very quick to fit and require no special tools. Simply unscrew the cable gland and screw the threaded receptacle directly in its place. UTS threaded receptacles are available in five layouts and three sizes (10, 14 and 18) and can be used to carry signals, power or both. They are offered in three thread standards – M (metric), Pg (Panzergewinde) and NPT (National Pipe Thread) – for compatibility with any range or wiring standard in Europe, the USA, Japan and elsewhere.

Designed to withstand harsh environments, UTS threaded receptacles are UL 1977 and UL 94-V0 (fire and smoke) approved, UV resistant and IP68/69K rated.

www.souriau-industrial.com

Contact SOURIAU:
Alexandre Huart
Trim Trio Product Manager
Email: Ahuart@souriau.com
SOURIAU USA
25 Grumbacher road
York
PA 17402

Rhonda SHAW
Phone: 1 866 768 7428
Fax: 1 717 505 5953
rshaw@souriau.com

SOURIAU
Silke FROHLICH
sfrohlich@souriau.com