Product News: Mechanical Components & Assemblies, Communication Systems & Equipment
Thin-Film Directional Couplers serve wireless applications.
Press Release Summary: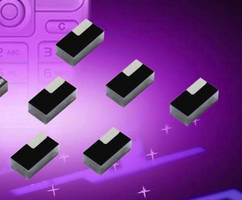 May 20, 2013 - Suited for portable communications devices, DB0603N thin-film, 3 dB, 90° couplers come in surface-mountable, 0603 size LGA package; have 800–6,000 MHz range; and provide 10 W continuous power handling. Package contributes to minimal profile and parasitics characteristics and also lends to optimal solderability and heat dissipation as well as self-alignment during reflow. RoHS compliant couplers also feature construction ruggedized for reliable automatic assembly.
Original Press Release
AVX Introduces the Smallest Thin-Film 10W 3db Directional Couplers for Wireless Communications
Press release date: May 8, 2013
Featuring a frequency range of 800-6,000MHz, the new 0603 couplers are currently unique in their ability to provide 10W continuous power handling

GREENVILLE, S.C. – AVX Corporation, a leading manufacturer of advanced passive components and interconnect solutions, has introduced the smallest thin-film 10W 3dB directional couplers available in today's market.  Based on AVX's proven thin-film technology, the new 0603 3dB 90° couplers exhibit excellent high-frequency performance in ranges spanning 800-6,000MHz and are currently unique in their ability to provide 10W continuous power handling.

"Although designed for use in a wide variety of wireless communications applications, the power handling capabilities, expansive frequency range, and miniature size of our new thin-film 10W 3dB couplers makes them especially attractive for portable communications devices, as this particular market segment continues to demand smaller and smaller components in order to keep pace with consumers' demands for the smallest and sleekest portable technology available," said Larry Eisenberger, senior marketing application engineer at AVX.

Utilizing Land Grid Array (LGA) packaging technology, AVX's new 10W 3dB directional couplers feature an inherently low profile, low parasitics, excellent solderability, and improved heat dissipation in addition to self-alignment during reflow.  Surface mountable and RoHS compliant, the DB0603N couplers also feature low loss, high isolation, and rugged construction for reliable automatic assembly.

Supplied on tape and reel, AVX's 10W 3dB directional couplers are ideal for a broad range of wireless communications applications, including: mobile communications, satellite TV, GPS devices, vehicle location systems, and wireless LANs, among others.

For more information about AVX, please visit www.avx.com, call 864-967-2150, or write to One AVX Boulevard, Fountain Inn, S.C. 29644.

About AVX
AVX Corporation is a leading international supplier of electronic passive components and interconnect solutions with 26 manufacturing and customer support facilities in 15 countries around the world. AVX offers a broad range of devices including capacitors, resistors, filters, timing and circuit protection devices and connectors. The company is publicly traded on the New York Stock Exchange (NYSE:AVX).

For more information, contact:
Larry Eisenberger
Senior Marketing Application Engineer
864-967-9304
larry.eisenberger@avx.com