Product News: Mechanical Components & Assemblies, Communication Systems & Equipment
Thin Film Couplers operate across WiFi spectrum.
Press Release Summary: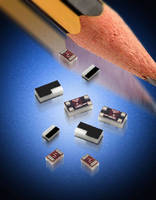 August 5, 2014 - Based on multilayer integrated thin film technology, High Directivity 0302 Couplers offer high frequency performance across 2,400–5,905 MHz WiFi spectrum. Miniature devices are rated for operating temperatures spanning -40 to +85°C and are supplied with lead-free and RoHS-compliant 100% tin terminations compatible with automatic soldering technology, including reflow, wave, vapor phase, and manual.  
Original Press Release
AVX High Directivity 0302 Thin Film Couplers for WiFi Bands Now Available through Distribution
Press release date: July 31, 2014
Based on ruggedly constructed multilayer integrated thin film technology, AVX's miniature couplers provide excellent high frequency performance across the WiFi spectrum

GREENVILLE, S.C. – AVX Corporation, a leading manufacturer of passive components and interconnect solutions, has announced that its high directivity 0302 thin film couplers for WiFi bands—including the new, tight tolerance 0302 component—are now available through distribution. The WiFi band couplers are based on multilayer integrated thin film (ITF) technology, which provides the miniature components with excellent high frequency performance across the WiFi spectrum (2,400-5,905MHz) and rugged construction for reliable automatic assembly. Available in 0302, 0402, and 0603 packages, each of which exhibit identical electrical performance, AVX's WiFi band couplers also feature land grid array (LGA) packaging technology, the benefits of which include: inherently low profile, self alignment during reflow, excellent solderability, low parasitics, and effective heat dissipation.

"As with many of our products, we developed the new high directivity 0302 thin film WiFi couplers in response to customer requests for smaller components with equivalent or improved electrical specifications, so we are very pleased that our customers can now easily acquire the new standard and tight tolerance components through distribution," said Larry Eisenberger, senior marketing application engineer at AVX.

AVX's high directivity couplers for WiFi bands are rated for operating temperatures spanning -40°C to +85°C and are supplied with lead-free and RoHS compliant 100% tin terminations compatible with automatic soldering technologies, including: reflow, wave, vapor phase, and manual. Finished parts are 100% tested for electrical parameters and visual characteristics, and each production lot is evaluated on a sample basis for both static humidity and endurance.

To check stock for the newly available 0302 WiFi couplers (part numbers: CP0302A5425ENTR and, for tight tolerance, CP0302P5425ENTR), please visit http://www.avx.com/check_stock.asp.  For more information about AVX's high directivity, thin film couplers for WiFi bands, including the 0402 and 0603 components, please visit http://avx.com/docs/Catalogs/cp0302.pdf.   For all other inquiries, please visit www.avx.com,  call 864-967-2150, or write to One AVX Boulevard, Fountain Inn, S.C. 29644.

About AVX
AVX Corporation is a leading international supplier of electronic passive components and interconnect solutions with 21 manufacturing and warehouse facilities in 11 countries around the world. AVX offers a broad range of devices including capacitors, resistors, filters, timing and circuit protection devices and connectors. The company is publicly traded on the New York Stock Exchange (NYSE:AVX).

For more information, contact:
Larry Eisenberger
Senior Marketing Application Engineer
864-967-9304
larry.eisenberger@avx.com