Product News: Computer Hardware & Peripherals, Electrical Equipment & Systems, Optics & Photonics
Thin (1.5 mm) Speaker produces 80 dB SPL and no EMI.
Press Release Summary: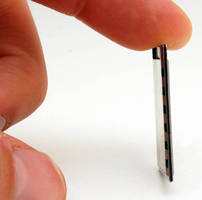 February 27, 2014 - Suited for use in narrow and flat spaces, piezo ceramic MLCT (Multilayer Ceramic Transmitter) series features waterproof design and anti-electromagnetic applications. Dimensions are 30 x 20 x 1.5 mm, and acoustic multi-layer ceramic construction produces output of 80 dB with 16 V driving voltage. Operating from -20 to +70°C, series has 300–20,000 Hz frequency range and will not cause EMI to any surrounding electronic device.
Original Press Release
UNBELIEVABLE! Thin Speaker Produces 80 Db SPL
Press release date: February 19, 2014
Only 1.8mm Thickness is Ideal for Narrow and Flat Space Usages

Transducers USA has introduced their new piezo ceramic MLCT (Multilayer Ceramic Transmitter) series. Its unique simple acoustic multi-layer ceramic construction produces a high output of 80 Db with only 16V low driving voltage. Its milliwatt of power consumption and high conversion efficiency lead to an even broader range of applications.

With an overall size of 30 X 20 X 1.5mm, the series is ideal for flat and narrow spaces.  Waterproof design and anti-electromagnetic applications make it a product of choice for digital products, household appliances, voice repeaters, music players and any operation where sound conversion is needed in small available spaces.

The Transducers USA's new MLCT series has a wide frequency range of 300-20K Hz  within a working temperature range of -20 to +70°C.  Units will not cause electro-magnetic interference to any surrounding electronic device as well as eliminate any such interference on its own.

Current pricing for TRANSDUCERS USA's new thin speaker is being quoted at $2.00 each in sample quantities, with delivery quoted from stock. Requests for samples, as well as for detailed specifications and specific quantity/price quotations and for a copy of their complete catalog of speakers, microphones and audio alerts should be addressed to Transducers USA's main office and warehouse located at:

1400 Howard Street, Elk Grove Village, IL 60007
Tel. 1-(888) 921-6400
Fax: (847) 956-1950
E-mail: info@tusainc.com
Web: www.tusainc.com

Transducers, USA's new MLCT series is another example of the company's efforts to offer cutting edge products in addition to its extensive line of piezo buzzers, ceramic elements, speakers, receivers, microphones and ultrasonic sensors and emitters to the telecommunications, medical and specialized product industrial markets throughout North America. Most of their products are certified under ISO-9002 with many having ISO-9001 and/or QS-9000, and are manufactured in modern facilities in Taiwan, China and Korea

Company Contact:
Joe Sieracki 
(847) 956-1920

Press Contact:
Len Cravath
(847) 291-8366