Product News: Chemical Processing & Waste Management
Thermoplastic Vulcanizates offer thermoset rubber alternative.
Press Release Summary: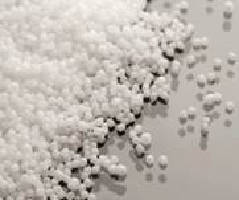 August 14, 2014 - Offering UV and ozone stability, Viprene® P-Series TPVs excel in demanding applications such as appliance, industrial, and building materials, as well as interior and exterior vehicle parts that need to endure extreme temperatures in presence of oil, grease, and water. In addition to rubber-like properties, TPVs are fatigue resistant and dimensionally stable. Products offer good compression set and low temperature flexibility.
Original Press Release
APS Elastomers Newly Formulated TPVs; Softer, More Heat Resistant
Press release date: August 12, 2014
Romulus, MI -- The increase demand for thermoplastic elastomers to replace higher-cost thermoset rubbers was the impetus for APS Elastomers to develop enhanced grades of thermoplastic vulcanizates (TPVs) that are softer and more heat resistant. "Our new grades are a superior, as well as a  cost-effective alternative to higher-cost thermoset rubbers used in a variety of industrial and consumer parts", says Stephane Morin, owner of APS Elastomers. 

Under the trade name, Viprene®, the newly formulated P-Series of TPVs are easier to process and provide faster cycle times with reduced scrap rates. The new TPVs excel in demanding applications such as appliance, industrial and building materials, as well as interior and exterior vehicle parts that need to endure extreme temperatures in the presence of oil, grease and water.  In addition to its rubber-like properties, the specially formulated Viprene® TPVs are fatigue resistant, dimensionally stable and offer a good compression set, heat aging stability, low temperature flexibility and excellent U.V. and ozone stability.

APS Elastomers is an independent TPU, TPE, TPV, and other elastomer resource to offer in-depth and high level customer service, sales, technical advice, problem-solving, marketing insight, product development and support to designers, marketers and processors.  APS Elastomers also provides custom compounding and full laboratory services.

For more information contact: APS Elastomers, 30735 Cypress Road, Suite 400. Romulus, MI 48174. Email: info@apstpe.com, Web: www.apstpe.com