Product News: Test & Measuring Instruments
Thermal Probe yields consistent Bake Cycle S Curve.
Press Release Summary: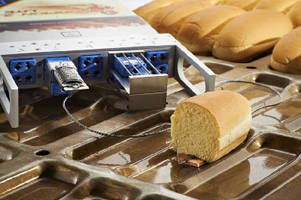 May 13, 2014 - Placed under bread or bun dough, Pan+Dough Probe simultaneously captures pan/dough interface temperature and dough core temperature. Readings are used to produce Bake Cycle S Curve indicating critical temperature points for yeast kill, gelatinization, and arrival time as they relate to percentage of travel through baking chamber. Since stationary vertical probe is always at fixed penetration depth, measurements are always at same reference point from one batch to next.
Reading Thermal Systems
380 Old West Penn Ave., Robesonia, PA, 19551, USA
Original Press Release
Reading Thermal Pan+Dough Probe Delivers Accurate, Repeatable Measurements
Press release date: April 30, 2014
Fixed Position Probe Yields Consistent Bake Cycle S Curve

ROBESONIA, PA -- Reading Thermal (www.readingthermal.com), a leader in engineering and consulting for thermal process equipment and commercial processing ovens, has introduced the Pan+Dough Probe, a fixed position, dough interface/core temperature measuring device that provides accurate, repeatable data that are not possible with hand-placed thermocouple probes.

"Bread bakers rely heavily on accurate measurements of the core temperature of the bread as it moves through the oven to ensure consistent quality," said Richard Starke, director, Reading Thermal. "The Pan+Dough Probe has a stationary vertical probe that is always at a fixed penetration depth, as opposed to probes inserted into the loaf that can change position as the dough rises. The Pan+Dough Probe yields measurements that are always at the same reference point from one batch to the next."

The Pan+Dough Probe is placed under the bread or bun dough and simultaneously captures the pan/dough interface temperature and the dough core temperature.  The Pan+Dough Probe connects to a Temperature Interface device that can accommodate five Pan+Dough Probes. The probe's copper spade is pressed against the pan by the weight of the dough, and measures the critical pan/dough interface temperature.  The vertical, stainless steel, dough core temperature probe penetrates the dough at a fixed distance from the pan. These readings are used to produce the Bake Cycle S Curve indicating critical temperature points for yeast kill, gelatinization and arrival time as they relate to the percentage of travel through the baking chamber.  SCORPION® Software Version 8 (SV8) automatically calculates the three S Curve data points.  Environment temperature is also measurable using sensors connected to the Temperature Interface device.

The Pan+Dough Probe is one component in the Reading Thermal SCORPION® 2 Data Logging Measurement System which has become a standard in oven profiling. The system provides a complete measurement system to capture the four key baking parameters: 1) Temperature 2) Airflow, 3) Energy Transfer and 4) Humidity. Reading Thermal also offers the SCORPION® Profiling Service to help customers solve a range of baking, drying, and cooling problems, and the Oven Safety Inspection Program to help customers ensure their systems and processes are in compliance with OSHA regulations.

Reading Thermal is a part of Reading Bakery Systems, one of the world's leading manufacturers of innovative baking and process systems for the global baked snack business.  Based in Robesonia, Pa., with manufacturing facilities in Indianapolis, Ind., Reading Bakery Systems provides a variety of processing solutions capable of producing a wide range of snack products, such as cookies, crackers, fabricated potato chips, pretzels and bread snack products.  Exact Mixing, by Reading Bakery Systems, offer innovative continuous mixing solutions to the food industry.  Reading Bakery Systems also operates a state-of-the-art Science & Innovation Center in Sinking Spring, Pa.  Reading Bakery Systems brands include Thomas L. Green, Reading Pretzel, Exact Mixing and Reading Thermal. RBS is a Markel Bakery Group Company. For more information concerning equipment and services provided by RBS, visit www.readingbakery.com.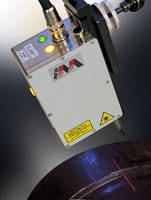 Sensors, Monitors & Transducers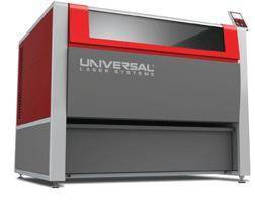 Labels, Tags, Signage & Equipment, Machinery & Machining Tools, Optics & Photonics