Product News: Health, Medical and Dental Supplies & Equipment, Optics & Photonics
Therapeutic Gastroscope supports diagnosis and treatment.
Press Release Summary: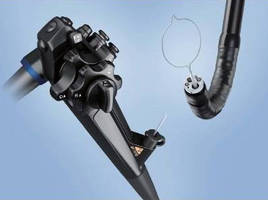 June 5, 2014 - Offering both high-definition and narrow band imaging capabilities, single-channel Model GIF-1TH190 provides optimized resolution and imaging needed for screening and diagnosis, along with large 3.7 mm working channel for therapeutic applications, including insertion of dilation balloons, ablation tools, and coagulation probes. Scope has slim design with 10.0 mm distal end diameter, and 2–100 mm depth of field, allowing close examination of mucosa without need for magnification.
Original Press Release
Olympus Launches First HD Single-Channel Therapeutic Gastroscope for Advanced Diagnosis and Treatment of GI Tract
Press release date: May 28, 2014
New Scope Allows Hospitals to Realize Cost Savings and Efficiencies Through One-Scope Solution for Diagnosis and Therapy

CENTER VALLEY, Pa. -- Olympus, a global technology leader in delivering innovative diagnostic and therapeutic solutions for medical and surgical procedures, among other core businesses, announced today the commercial availability of its 510(k) cleared, next-generation GIF-1TH190 gastrointestinal videoscope for endoscopy or endoscopic surgery use within the upper digestive tract.

As the first single-channel therapeutic gastroscope to offer both high-definition (HD) and Narrow Band Imaging capabilities, the GIF-1TH190 provides physicians with the advanced resolution and enhanced imaging needed for screening and diagnosis, along with a large 3.7 mm working channel for therapeutic applications.

"Imaging is increasingly important as we advance our minimally invasive techniques for resection of early neoplastic lesions," said Robert H. Hawes, MD, attending endoscopist at Florida Hospital. "If you want to do therapy, you must have optimal imaging. Using the same scope for imaging and therapy is optimal. The new GIF-1TH190 will allow that."

Prior to the GIF-1TH190, HD technology was primarily used in the upper GI tract for diagnostic functions. As physicians shifted from diagnosis to therapy, they switched to a scope with lesser-quality visualization in favor of a larger working channel. The GIF-1TH190 goes beyond the previous technology to allow for excellence in visualization at the same time that therapy is delivered. The decreased size of the imaging chip allows for a narrower insertion tube, while the larger working channel allows for the insertion of dilation balloons, ablation tools, coagulation probes and other devices physicians may want to use.

The HD and electronically enhanced imaging in the GIF-1TH190 provides sharper contours, more natural colors and greater resolving power for visualization of fine details. The GIF-1TH190 also delivers enhanced Narrow Band Imaging (NBI). NBI is a validated visualization tool for observing capillary and mucosal structures, allowing better observation of dysphasia, metaplasia and inflammation in patients with Barrett's esophagus.

According to Truven Health data, U.S. physicians performed more than 8.6 million upper endoscopy procedures in 2012([i) in an effort to detect, prevent or treat Barrett's esophagus, cancers, lesions and other disorders in the upper digestive tract. Barrett's esophagus, commonly considered to be a precancerous condition, is estimated to affect 1.6 to 6.8 percent of the population.([ii) Using HD NBI to target suspicious areas in Barrett's esophagus patients can result in significantly fewer biopsies than white light examination with the Seattle protocol([iii).

Key features of the GIF-1TH190 include:

--  HDTV image quality: HD imaging delivers improved screening and diagnostic capabilities.
--  Narrow Band Imaging: HD NBI provides contrast, which may aid in the interpretation of mucosal morphology, vascular patterns, and blood vessel appearance in patients with Barrett's esophagus. It also provides  nearly twice the viewable distance under NBI compared to previous-generation scopes.
--  Slim design: The 10.0 mm distal end diameter is 0.9 mm less than the scope's predecessor while maintaining a large 3.7 mm working channel.
--  Depth of field: The 2-100 mm depth of field allows close examination of the mucosa without the need for magnification.
--  Water jet: A forward water jet helps keep the mucosa clear during observation and treatment.
--  Waterproof one-touch connector: A new connector simplifies the effort required for setup; its fully submersible design eliminates the need for a water-resistant cap and minimizes the risk of fluid invasion.
--  EVIS EXERA III universal platform: The scope is powered by an advanced imaging system, which works seamlessly across specialties to provide easier data management and cost efficiencies.

As part of the EVIS EXERA III system, the GIF-1TH190 offers tangible improvements over its predecessor, including an advanced imaging unit, better image processing, noise reduction and reduced halation.

"The GIF-1TH190 offers superb diagnostic capabilities in a therapeutic scope," said Luke Calcraft, President of the Medical Systems Group at Olympus Corporation of the Americas. "This allows physicians to use just one instrument to perform both tasks, creating procedural and cost efficiencies. We are committed to helping our customers meet the triple aim of Affordable Care by improving quality of care, decreasing costs and enhancing patient satisfaction."

Olympus' GIF-1TH190 gastrointestinal videoscope was showcased at Digestive Disease Week 2014 earlier this month in Chicago, IL. For more information, please contact your Olympus representative, call 800-848-9024 or visit our GIF-1TH190 web page.

About Olympus Medical Systems Group
Olympus Medical Systems Group, a division of global technology leader Olympus, develops solutions for health care professionals that help improve clinical outcomes, reduce overall costs and enhance quality of life for their patients. By enabling less invasive procedures, innovative diagnostic and therapeutic endoscopy, and early stage lung cancer evaluation and treatments, Olympus is transforming the future of health care.

For more information, visit Olympus at medical.olympusamerica.com.

([i)   Data for use in this study were supplied by Truven Health Analytics Inc., Ann Arbor, Michigan ("Truven Health"). Any analysis, interpretation or conclusion based on these data is solely that of the authors and Truven Health disclaims responsibility for any such analysis, interpretation or conclusion.

([ii)   "Barrett's Esophagus." NIH Publication No. 13-4546. National Digestive Diseases Information Clearinghouse (NDDIC). Feb 2013. Web 12 May 2014. http://digestive.niddk.nih.gov/ddiseases/pubs/barretts/#how

([iii)  Levine DS, Haggitt RC, Blount PL, et al. An endoscopic biopsy protocol can differentiate high-grade dysplasia from early adenocarcinoma in Barrett's esophagus. Gastroenterology 1993; 105:40-50.

CONTACT:
Michael Levey
Olympus Corporation of the Americas
484-896-5120
michael.levey@olympus.com

Web Site: http://medical.olympusamerica.com