Product News: Test & Measuring Instruments
Test Systems serve test bench or in-vehicle applications.
Press Release Summary: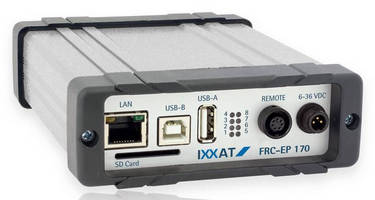 February 10, 2014 - Universally usable hardware platforms FRC-EP170 and FRC-EP190 offer FlexRay, CAN, CAN FD, LIN, K-Line, USB, Ethernet, EtherCAT, Bluetooth, and RS232 interfaces as well as analog and digital I/O. Expansion slots facilitate addition of other interfaces, including WLAN, GSM, or GPS, and further features include galvanic isolation and optional EtherCAT slave functionality. Among others, applications include gateway solutions for connection to different ECU integration levels.
Original Press Release
HMS Industrial Networks AB, Powerful Test Systems for Test Benches and Vehicles
Press release date: January 29, 2014
IXXAT has extended its FRC-EP series with the new, compact FRC-EP170With the FRC-EP series, which consists of the FRC-EP170 and the FRC-EP190, IXXAT offers universally usable hardware platforms for applications on the test bench or in the vehicle, attractive for their high performance, favorable prices, broad range of applications, and support for a wide variety of software solutions.

These devices have FlexRay, CAN, CAN FD, LIN, K-Line, USB, Ethernet, EtherCAT, Bluetooth, and RS232 interfaces, along with analog and digital I/O. Expansion slots make it simple to add other interfaces, including WLAN, GSM, or GPS. This makes the devices scalable, adaptable to specific applications, and ready for the future.

With the new FRC-EP170, IXXAT has now introduced a very compact, cost-effective variant of the familiar FRC-EP190. Both devices have the same processor and the same operating system, making the new variant completely software-compatible and just as powerful.

Thanks to the large number of identical interfaces and its galvanic isolation, extended scalability, and especially its optional EtherCAT slave functionality, the primary target application of the FRC-EP190 is integration with test benches in the automotive communications world.

The handy FRC-EP170 was developed for use in vehicles. Its main application areas are gateway solutions for connection to different ECU integration levels, prototype controllers, expansion of data loggers with additional interfaces, and wireless signal display using off-the-shelf mobile phones or tablet PCs.

Demanding Restbus simulation and gateway solutions can be implemented quickly and easily based on either device, using the corresponding software packages from IXXAT. There are also extensive development packages available for the development of specific solutions. Custom functions and applications can be implemented quickly and easily by customers in-house thanks to the use of the Linux operating system and the availability of a free Software Development Kit.

You can find more information about the new FRC EP series at www.ixxat.de

HMS Industrial Networks is the leading independent supplier of embedded network technology for automation devices. HMS develops and manufactures solutions for interfacing automation devices to industrial networks. Development and manufacturing takes place at the head office in Halmstad, Sweden. Local sales and support is provided by the HMS branch offices in Chicago, Beijing, Karlsruhe, Milan, Mulhouse and Tokyo. HMS employs over 350 people and reported sales of Euros58 million in 2012. HMS was formed in 1988 and is listed on the NASDAQ OMX Nordic Exchange in Stockholm.

IXXAT Automation GmbH
- -
Phone: 1-603-471-0800
Fax: +1-603-471-0800 ext. 101
sales@ixxat.com

IXXAT Automation GmbH
FOLLEY David
Phone: +44 (0) 7940 432132
Fax: +44 (0) 1926 405522
dfo@hms.se

IXXAT Automation GmbH
Member of the HMS group
Leibnizstr. 15
88250 Weingarten, Germany
Frank Pastors
Phone: +49 751 56146-111
Fax: +49 751 56146-29
pastors@ixxat.de