Product News: Test & Measuring Instruments
Test System measures dissolved substances of soaked materials.
Press Release Summary: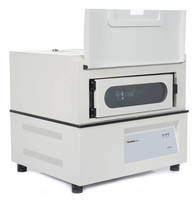 September 2, 2014 - With i-Resitest 8100 Evaporation Residue Constant Weight Tester, users can precisely determine mass of dissolved substances of table wares, containers, packaging films, cans, tubes, and other materials in different soaking solutions. Instrument can be used with Online Data Management System for packaging testing, which comes with 2 versions – Cloud Version and Intranet Version – to meet distinct requirements.
Original Press Release
Test System Measures Dissolved Substances of Materials in Different Soaking Solutions
Press release date: August 29, 2014
i-Resitest 8100 Evaporation Residue Constant Weight Tester is professionally designed for the precise mass determination of dissolved substances of table wares, containers, packaging films, cans, tubes and other materials in different soaking solutions.

Soak the specimen into solution according to related requirements. Take out certain quantity of soaking solution and inject into conditioned test dish which has been dried in high temperature oven and come with constant weight. Dry the test dish with soaking solution on water bath, prior to placing it into high temperature oven for further drying and weighing. Continue the dry and weigh operation until the weight of test dish reaches constant. The quantity of evaporation residues could be obtained by reducing mass of empty dish from the final constant dish mass.

This instrument can be used with our advanced Online Data Management System for packaging testing, which comes with two versions to meet distinct needs of our clients: The Cloud Version & The Intranet Version

Labthink International, Inc.
200 River's Edge Drive, Medford, Massachusetts, 02155, U.S.A.
Phone: +1-617-830-2190
FAX: +1-781-219-3638
Email: info@labthinkinternational.com
Website: http://www.labthinkinternational.com