Product News: Electrical Equipment & Systems
Temporary PDUs feature plug-and-play design.
Press Release Summary: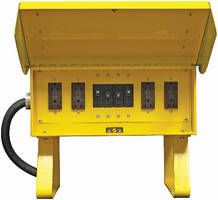 June 25, 2014 - Constructed of heavy-duty welded steel to survive harsh jobsite environments, Oscar® mini-e™ Temporary Power Distribution Centers address applications requiring safe, temporary power where scalable current and power handling capabilities are valued. Systems are UL/cQPS listed, NEMA 3R rated, and available in 20, 30, and 50 A models. They include powder-coated enclosure, automatic power-up GFCI protection, outdoor-use ground clearance, multiple input power options, and twist-lock lid.
Original Press Release
The Ericson Manufacturing Company Launches Oscar® mini-e(TM) Temporary Power Distribution (PDU) Center
Press release date: June 13, 2014
Willoughby, OH – Ericson Manufacturing continues to innovate and lead the temporary power market with the introduction of the Oscar® mini-e™ Temporary Power Distribution (PDU) Center.

Ericson's mini-e™ PDU extends the capabilities of the popular Oscar family by providing configuration alternatives that address applications requiring high quality, safe temporary power where scalable current and power handling capabilities are valued.  The mini-e™ is built rugged enough to survive the harshest jobsite environments with a standard platform constructed of heavy-duty welded steel, offering the ability to meet unique application requirements without the cost typically associated with custom solutions. Designed for simplified plug-n-play use, the Ericson "system" of Oscar PDU's requires minimal setup and teardown activity, saving valuable time and associated expense.

UL/cQPS listed, NEMA 3R rated and available in 20A, 30A and 50A models, the mini-e™ delivers unmatched flexibility and performance.  The innovative NEMA 3R in-use cover assembly; durable power-coated enclosure; automatic power-up GFCI protection; outdoor-use ground clearance; multiple input power options; and twist lock lid, further complement the mini-e™ feature set.

"Temporary power distribution is at the heart of nearly every construction, maintenance or entertainment activity, and Ericson is proud to deliver safe, reliable solutions that address the needs of these varied applications," said Jon Semancik, Ericson's Product Development Manager.  "The innovative Oscar mini-e™ is a natural extension of our popular temporary power product family, which allows us to better address the wide range of challenges facing our customers".

The mini-e™ is ideal for a broad range of temporary power applications including general construction, outdoor events, carnivals, stage and studio, photo studios, convention centers, maintenance, sporting events and rental services.  Ericson's solutions are also designed to meet the latest Safety Certifications and Standards affording peace of mind and confidence.  Exceptional workmanship and quality, along with the highest levels of product availability, ensure unmatched Customer responsiveness and satisfaction.

For more information please visit: http://products.ericson.com/viewitems/temporary-power-and-distribution/er-distribution-mini-e-portable-power-distribution?

About Ericson Manufacturing
Ericson Manufacturing Company is a world-class manufacturer of safe and innovative temporary lighting and portable electrical power distribution products, including plugs and connectors, string lights, ground fault circuit interrupters, cord and cable reels, push-button pendant stations and other custom products. Based in Willoughby, Ohio, the company offers unsurpassed service and an extensive line of products that has energized, illuminated, protected and connected jobsites throughout North America since 1918.

For Details, Contact:
Nicole Mezic
Ericson Manufacturing Company
Phone 440-951-8000 x223
4215 Hamann Parkway
Willoughby, OH 44094
Tel: 440-951-8000
www.ericson.com