Temperature Data Loggers transmit wirelessly to PC.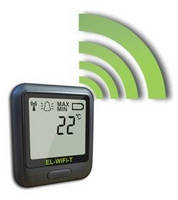 Temperature Data Loggers transmit wirelessly to PC.
December 3, 2013 - Utilizing internal ambient temperature sensor, WiFi Temperature Data Loggers record temperatures from -4 to +140°F and provide Max/Min readings on integrated LCD segment display. Units automatically transmit data to PC over WiFi network. From there, users can view data using included graphing tool or export data to Microsoft Excel. When configured using average sampling rate of once every 5 minutes, sensor will record for over 1 year before battery needs recharging.

Original Press Release

CAS DataLoggers
12628 Chillicothe Rd., Unit J
Chesterland, OH, 44026
USA



Wireless Temperature Data Loggers Save You Time Checking


CAS DataLoggers Gives You an Easy Way to Check Temps

CHESTERLAND OH — Do you have temperature-sensitive products or environments you need to monitor? Now CAS DataLoggers and popular manufacturer Lascar have the hassle-free solution with our WiFi Temperature Data Loggers. These portable data loggers send their temperature data and alarms directly to your PC so there's no need to head over to the logger to get your data. These dataloggers are affordable, easy to use and include FREE setup and control software so you can setup automated monitoring ASAP to keep your inventory and environment safe.

The data logger records using an internal ambient temperature sensor with a measurement range of -20 to +60°C (-4 to +140°F). Max & Min readings are given on the logger's integrated LCD segment display along with Low Battery and WiFi connection indicators. The data logger can stand by itself on horizontal surfaces and also clips into the included wall bracket that can be screwed onto any wall or flat surface.

These temperature dataloggers automatically transmit their data to a PC over your Wi-Fi network. From there you can view it using the included graphing tool or export to Microsoft Excel. Just set your high and low alarms using the software. Alarm events are instantly shown on the LCD display and your PC screen so you're always aware of any critical situations.

When configured using average sampling rates (once every 5 minutes or so) the sensor will keep recording for over a year. The internal lithium polymer battery can then be recharged via PC or USB +5V wall adapter using the data logger's USB port and the provided USB lead. These data loggers are also 802.11b compliant with a strong IP55 protection rating.

While physically connected to the PC during configuration, the sensor automatically searches for an existing wireless network. Afterward you can place it anywhere within network range. The data logger will continue recording even if the sensor temporarily loses connectivity with the network until it is able to communicate again with the PC application (max 120 days at 10-second sample intervals). The sensor's range can be increased by using WiFi extenders.

The FREE control software installs on your PC and allows quick setup, data logging and data review. Setup features include sensor name, your choice of logging in either °C or °F, sampling rate, and high/low alarms. The software is available to download free of charge from the manufacturer's website, and you can also view multiple data loggers and immediately graph all historic data.

For more information on the WiFi Temperature Data Logger, additional Lascar data loggers monitoring humidity and more, or to find the ideal solution for your project, contact a CAS DataLogger Applications Specialist at (800) 956-4437 for application specific recommendations or visit www.DataLoggerInc.com.

---
| Featured Manufacturing Jobs