Product News: Controls & Controllers, Software
Temeprature Analysis Software offers real-time data export via OPC.
Press Release Summary: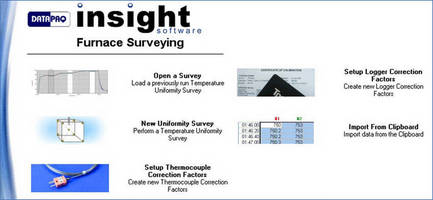 March 27, 2014 - Insight v7.3 offers features for temperature profiling and analysis in diverse industrial heating processes. Support for real-time export of data via OPC (Open Platform Communications) enables communication between data source (OPC server) and software application (OPC client). Data may include process data and records of alarms and events. As OPC server, software can pass data directly from logger to preferred OPC-client process-management application to assist with live process control.
Original Press Release
Datapaq® Releases Insight Version 7.3
Press release date: March 24, 2014
Real-time data export via OPC and enhanced usability

CAMBRIDGE, UK – Datapaq releases its Insight Software version 7.3 with enhanced features for temperature profiling and analysis in all kinds of industrial heating processes. Insight now supports the real-time export of data via OPC ("Open Platform Communications"). OPC is an industrial automation standard that allows communication between a data source (the OPC server) and a software application (the OPC client). The data may include process data and records of alarms and events. With Insight acting as an OPC server, data can be passed directly from the logger to a user's own preferred OPC-client process-management application, thereby assisting with live process control and enhancing productivity. The software update furthermore introduces user-friendly tools to the industry-specific Food Insight and Oven Insight versions that support process optimization, helping users set up heating and cooling processes and adapt parameters without repeated trial runs.

Insight Software - Furnace Surveying
Responding to customer feedback, Datapaq adds many new features that make thermal profiling easier and more efficient.

About Datapaq

DATAPAQ is a world leader in the manufacture of temperature measurement and analysis systems for all types of industrial heating processes. Founded in 1984 in Cambridge (UK), the company develops and manufactures sophisticated systems for recording and storing temperature profiles in rugged environments. DATAPAQ solutions are used to control and optimize processes in many different industries, including the photovoltaic, automobile, steel, electronics, ceramics, textile and food industries. DATAPAQ has experienced business partners around the world and operates subsidiaries in Germany, in the USA, and in China, staffed by experienced teams of experts who provide customer care and support. DATAPAQ is ISO 9001 certified and has a DAkkS calibration laboratory. The company is a member of the Fluke Group. Together with the sister companies IRCON and Raytek, it is a global expert in temperature measurement & profiling.


Contact:
Arlene Lucas Starrh
arlene@raytek.com