Product News: Safety & Security Equipment, Labels, Tags, Signage & Equipment, Fasteners & Hardware
Tamper-Evident Seals protect trailer doors and cargo containers.
Press Release Summary: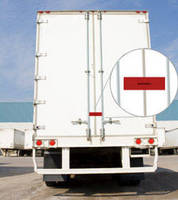 March 1, 2012 - When removed, Cargo Door Security Labels will self destruct to indicate tampering, leaving OPENED VOID message in film and corresponding message in adhesive residue on door surface. Typical application is to apply adhesive seal across center gap of 2 hinged doors. For high security applications, thieves will remove hinged doors at hinges without removing security seals on shackle or on keeper bars. Applying security seal from door to frames protects doors from removal.
Original Press Release
Protect Trailer Doors and Cargo Containers with Tamper-Evident Cargo Door Seals from NovaVision Inc.
Press release date: March 1, 2012
BOWLING GREEN, Ohio - NovaVision Inc. today announces its new line of tamper-evident cargo door seals.
Cargo Door Security Labels are used as an added layer of security for sealing the doors on truck trailers, sea containers and crates.
A typical application is to apply the adhesive seal across the center gap of the two hinged doors. In this application, the seal serves as the primary security seal, or as a secondary layer of protection to the shackle seal (typically a bolt seal, cable seal, barrier seal, etc).
Another application is to apply the adhesive seal over the gap on a hinged door -- one seal on each hinged door. For high security applications, determined thieves will remove the set of hinged doors at the hinges without removing the security seals on the shackle or on the keeper bars. Applying a security seal from the door to frames protects the doors from removal.
When removed, the seals will self destruct to indicate tampering, which leaves the OPENED VOID message in the film and a corresponding message in the adhesive residue on the door surface.
We also offer matching numbers in sets of 2 or 3 seals -- all having the same number. We provide matching number sets on the same roll and in sequential order.
Cargo door seals are offered in stock and custom configurations.
http://www.novavisioninc.com/pages/prd_cargo_door_seals.html
About NovaVision Inc.
Founded in 1994, NovaVision Inc. is an industry leader in the manufacture and sale of anti-counterfeiting and anti-tampering products, including hologram labels, tamper evident stickers, security tape, cable seals, bolt seals, and plastic hasp seals. NovaVision has a global reach, and is a provider of products to domestic (federal, state, and local) and international governments, large international companies, retailers, brand owners, hospitals, banks, as well as pharmaceutical, logistics, and collectibles companies.
Press Contacts
Michael Messmer
+1-419-354-1427
media@novavisioninc.com